The Smart Set: Lauren Cerand's weekly events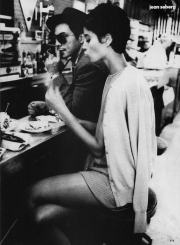 The Smart Set is a weekly feature, compiled and posted by Lauren Cerand, that usually appears Mondays at 12:30 pm, and highlights the best of the week to come. Special favor is given to New York's independent booksellers and venues, and low-cost and free events. Please send details to Ms. Cerand at lauren [at] maudnewton.com by the Thursday prior to publication. Due to the volume of submissions, events cannot be considered unless the date appears in the subject line of your message.

MON, APR 6: Lead Uganda, which assists Ugandan children, is having a benefit show at Canal Room, including a silent auction for a teapot made by my rad hipster pottery teacher, Darin Gehrke. 8PM, $10 suggested.
TUE, APR 7: Stephen Elliott, ringleader of The Rumpus, gives a preview of The Adderall Diaries (Graywolf, September) at KGB Nonfiction Night, along with Saïd Sayrafiezadeh and Rachel Sontag. 7PM, FREE. Joseph Clarke discusses "the evolution of the megachurch and its intersections with the history of the corporate workplace. It's part of an evening on architecture and urbanism by designers, filmmakers, musicians, and critics organized by Triple Canopy." At the Kitchen. 7PM, FREE. And, at Project No. 8, "the first in a series of three wooden electric cars will be on view and giving rides around the block," as part of a project by artist Seth Kinmont. 7-9PM, FREE.
THU, APR 9: "Jen Bekman Gallery is pleased to present Ruins, an exhibition of twelve platinum-palladium prints by photographer Beth Dow." Opening reception from 6-8PM, FREE.
ONGOING: Beowulf.

Filling in the gaps, the rest of the week is all about the movies: I saw Tokyo! on Friday night and met a Smart Set reader in the lobby (what's up, Reeves!). That's at Sunshine. Also playing there, Two-Lane Blacktop at midnight on April 17 & 18 [Full disclosure, as always: I publicized Rudy Wurliter's The Drop Edge of Yonder]. Anthology Film Archives shows "Chelsea Hotel on Film," "a crosstown tribute from one bastion of alternative culture to another," from April 9-12. Upcoming at BAMcinematek, Jonathan Baumbach introduces a screening of Autumn Tale on May 7 [Full disclosure, as always: JB is one of my PR clients]. Also on my radar: Grey Gardens, The Mysteries of Pittsburgh.
The Smart Set returns two weeks from today. 'Til then, you may console yourself with Jake Troth's cover of "Chopped and Screwed," my plaintive request to the weather.