The readings from new work trivia quiz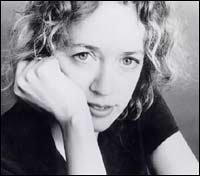 Fellow Poe fan A.N. Devers won the trivia quiz I handed out at last week's Readings from New Work event. (Actually, she tied with Joseph Clarke, but I disqualified him because he's my brother-in-law. He says he guessed on every answer and hopes his triumph bodes well for the architect exam.)
For fun, the questions:

1. Which writer's first literary effort, "printed at his own expense," was "a long and very bad romantic poem" called "Hans Küchelgarten" that he wrote in an attempt to establish himself as "a great poet in the German romantic style"? (He later "bought back all the copies and burned them.") — anecdote contributed by Carrie Frye
a. Franz Kafka
b. Nikolai Gogol
c. Robert Musil
d. Osip Mandelstam

2. Which writer, whose handbag was stolen at a London reading, said, it "doesn't mean I won't write the bloody book, but … [i]t's a horrible feeling of violation because, you know, I think it's one thing to have your credit card stolen, it's quite another to know that a stranger is reading your scribblings. I mean, it's just so much a violation"?
a. A.L. Kennedy
b. Zadie Smith
c. Hilary Mantel
d. Chimamanda Ngozi Adichie

3. Which British novelist, who became one of the most popular authors of his era after refusing to follow in the footsteps of his father and three older brothers — all lawyers, said of his writing: "I discovered my limitations and it seemed to me that the only sensible thing was to aim at what excellence I could within them. I knew that I had no lyrical quality. I had a small vocabulary and no efforts that I could make to enlarge it much availed me. I had little gift of metaphor: the original and striking simile seldom occurred to me…. I knew that I should never write as well as I could wish, but I thought with pains I could arrive at writing as well as my natural defects allowed"? — quote contributed by Jessa Crispin
a. Graham Greene
b. Joyce Cary
c. W. Somerset Maugham
d. E.M. Forster

4. Which writer, born in the States during the Victorian era, once said, "After all, one knows one's weak points so well, that it's rather bewildering to have the critics overlook them and invent others"?
a. Oscar Wilde
b. Henry James
c. Dorothy Parker
d. Edith Wharton


5. Which poet and former U.S. Poet laureate told The Paris Review: "The less acknowledgment I had from the world, the more forcefully I insisted that this was the best thing since the discovery of the woof and the warp. But as the world's opinion of me has elevated, my own has lowered sensibly"? — contributed by Marie Mockett
a. Kay Ryan
b. Louise Glück
c. Rita Dove
d. Ann Sexton

6. Which writer and humorist, now best known for children's books, said of the writing process, "I have no warm-up exercises, other than to take an occasional drink"?
a. E.B. White
b. Edward Gorey
c. Beverly Cleary
d. Judy Blume

7. Which writer, who kept fans waiting many years for a second book after the first, and who named Hunter S. Thomson as beneficiary on a high school life insurance form, said in an interview with Robert Birnbaum that early acclaim is primarily detrimental to a writer because it can tempt him or her into "overproduction," due to the prevailing idea that novels "should just be coming down the conveyor belt at a regular rate"?
a. Junot Diaz
b. Nathan Englander
c. Donna Tartt
d. ZZ Packer

8. Which American writer and critic called the book "a plaguing growth that does not itself grow, but attaches, hangs on, a timorous companion made up of deranged cells, of learning, experience, thinking"? — quote contributed by Jessa Crispin
a. Susan Sontag
b. Elizabeth Hardwick
c. Joan Didion
d. Elizabeth Bowen

9. Which famously scathing writer, depicting himself as the last of a generation, said, "For a writer, memory is everything. But then you have to test it; how good is it, really? Whether it's wrong or not, I'm beyond caring. It is what it is. As [a now-dead contemporary] would say, 'It's existential.' He went to his grave without knowing what that word meant"?
a. Gore Vidal
b. Norman Mailer
c. Truman Capote
d. James Purdy

10. Which Romantic poet, after suffering from paralyzing writer's block and opium addiction in England, went to Malta and there enjoyed a year of relative happiness and renewed productivity, only to have very little of his writing from that period survive because most of it was either burnt with a friend's effects in a quarantine fire or thrown overboard, in accordance with navy regulations, during pursuit by French privateers? — anecdote contributed by Carrie Frye
a. William Wordsworth
b. Lord Byron
c. Percy Bysshe Shelley
d. Samuel Taylor Coleridge

11. Which novelist, disgusted at being lumped into some "Brooklyn writer" scene purely on the basis of physical proximity, joked in a New York Times op-ed: "the physical act of moving your possessions from Manhattan to Brooklyn is now the equivalent of a two-year M.F.A. program. When you get to the other side, they hand you three Moleskine notebooks and a copy of 'Blogging for Dummies.' You're good to go"? — quote contributed by Marie Mockett
a. Colson Whitehead
b. Kate Christensen
c. Amanda Stern
d. Jonathan Lethem

12. Which poet and Nobel Laureate said: "On the bookshelf your place will be occupied, not by you, but by your book. And as long as they insist on making a distinction between art and life, it is better if they find your book good and your life foul than the other way around. Chances are, of course, that they won't care for either"? — quote contributed by Jessa Crispin
a. Joseph Brodsky
b. Robert Lowell
c. Philip Larkin
d. Wislawa Szymborska

13. Which Argentinian writer said that what truly frustrated him "is the work of love, of affection, of the bonds with my people. I don't lose freedom because I work, but because I work to conserve the circle, the family reunion, the enjoyment of friendships. I don't know how to break the ties; what's worse, I see clearly that I would break them (or at least have the certainty that I could do it tonight or next week); I detect in myself the seed of those who need to be alone to give something"? — quote contributed by Jessa Crispin
a. Jorge Luis Borges
b. Rodrigo Fresán
c. Julio Cortázar
d. Carlos Estrada

14. Which novelist said, "What is killing the novel is people's growing dependence on feel-good fiction, fantasy and non-fiction. With this comes an inability or unwillingness to tolerate any irregularities of form…. For anyone who wants to write or read daredevil, risk-taking prose, therefore, it was tremendously encouraging that Elfriede Jelinek won the Nobel prize for literature in 2004"?
a. John Banville
b. Ali Smith
c. A.L. Kennedy
d. Lucy Ellmann

Answers: 1. b (Nikolai Gogol; quote from Richard Pevear's introduction to the Collected Tales); 2. d (Chimamanda Ngozi Adichie); 3. c (W. Somerset Maugham); 4. d (Edith Wharton); 5. a (Kay Ryan); 6. a (E.B. White); 7. c (Donna Tartt); 8. b (Elizabeth Hardwick); 9. a (Gore Vidal); 10. d (Samuel Taylor Coleridge; from Richard Holmes' bio); 11. a (Colson Whitehead); 12. a (Joseph Brodsky); 13. c (Julio Cortázar); 14. d (Lucy Ellmann, pictured).