Upcoming events at Housing Works: April 15 and May 1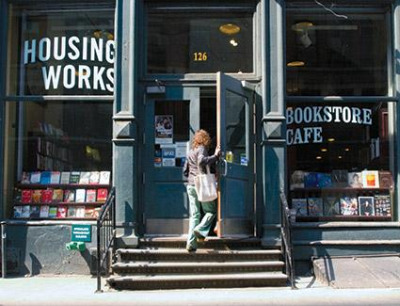 Lauren posted two weeks' worth of events last Monday, so, in lieu of a new Smart Set, here are a couple of things I'm up to in the next month and a half.
Readings from New Work: On April 15, I and my friends Lizzie Skurnick and Kate Christensen are doing short readings from new work at Housing Works.
I'll read from "When the Flock Changed," a novel excerpt forthcoming in the spring issue of Narrative Magazine. Lizzie will read from the re-issued Check-In, her wonderful poetry collection, now including new poems. And Kate will read from her forthcoming novel, Trouble, a book so engrossing you might not even want to put it down to have dinner with the author. I speak from experience. (Kate's calling it her beach book. "Every writer has one," she told me. I immediately thought of Graham Greene — and then of Travels With My Aunt.)
Originally we were all threatening to learn and sing a country song, but we didn't want to scare you off.

Powerful Women: On May 1, I'll be exploring unusual manifestations of female power in the work of authors Marie Mockett (author of the forthcoming Graywolf novel Picking Bones from Ash, and of the fascinating essay Letter from a Japanese Crematorium) and Marlon James (The Book of Night Women) and photographer Stephanie Keith.
More about all three as the date draws closer.

Both events are free and scheduled for 7 p.m. We'll have quizzes and prizes, and the bookstore sells beer, wine, and snacks. It'd be great to see you, if you're in the neighborhood.