The Smart Set: Lauren Cerand's weekly events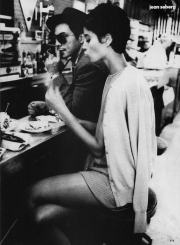 The Smart Set is a weekly feature, compiled and posted by Lauren Cerand, that usually appears Mondays at 12:30 pm, and highlights the best of the week to come. Special favor is given to New York's independent booksellers and venues, and low-cost and free events. Please send details to Ms. Cerand at lauren [at] maudnewton.com by the Thursday prior to publication. Due to the volume of submissions, events cannot be considered unless the date appears in the subject line of your message.

MON, MAR 23: Deborah Fisher of 21st Century Plowshare discusses Bed-Stuy Meadow project, along with other visionaries at Pecha-Kucha. 6:30PM, $5.
TUE, MAR 24: I would like to see Two Lovers; if it were showing in New York with French subtitles, as it does in this trailer, so much the better.
WED, MAR 25: The Beatrice series (I would propose, as Lord Byron suggested, "The reader is requested to adopt the Italian pronunciation of Beatrice, sounding all the syllables.") presents debut novelists Gitty Daneshvari (The Makedown) and Daphne Uviller (Super in the City)–and a special appearance by Jean Hanff Korelitz, who'll be reading from her latest novel, Admission, at the Mercantile Library Center for Fiction. 7PM, FREE. Also, you can now register for Anne Fernald's reading group "Virginia Woolf and the City," starting April 6 at the Merc. Also on Wednesday, "Tiffany Lee Brown & Nora Robertson tag-team a literary reading of their new collaborative piece at the PANIC! series; this month's theme: Female Desire (ooh la la), Nowhere, 322 E 14th St, East Village (between 1st/2nd), Hosted by Charlie Vasquez." 8PM, FREE.
THU, MAR 26: Says American Editor John Freeman, "Granta is having a party next Thursday, March 26th, at Idlewild Books on 19th Street off 5th Avenue to launch our new issue, which is themed to Lost and Found. We've got some great pieces inside by AL Kennedy, Jan Morris and a fabulous essay on China, 20 years after Tiananmen Square. We're going to have some wine and some Granta contributors (from New York and elsewhere) on hand." 7PM, FREE, RSVP to events@idlewildbooks.com [Full disclosure as always: Idlewild Books is one of my publicity clients, and Maud is one of the Granta contributors who will be attending].
FRI, MAR 27: Daria Martin's MINOTAUR, which just ended its run at the New Museum is wild, elemental, my kind of art (the kind you see in the dark). Maybe something similarly intriguing has taken its place?
WEEKEND: "Nicelle Beauchene Gallery is pleased to present the first New York solo exhibition by Sarah Crowner. Transforming the legacy of hard-edged geometric abstraction, specifically from the 1950s and 1960s (e.g. Victor Vasarely, Lygia Clark, Olle Baertling, Bridget Riley), Sarah Crowner employs both original and appropriated compositions as patterns and templates to construct paintings that exist as hand-built objects." Through May 3.