On Flannery: A Life of Flannery O'Connor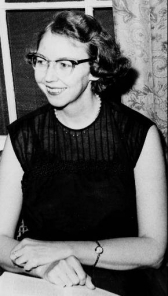 At NPR today I discuss Brad Gooch's new biography of Flannery O'Connor, a good book that, increasingly, I sort of wish I hadn't read. An excerpt:
Reading about a favorite writer is risky. No matter how diligently the reader tries to compartmentalize, disappointing revelations threaten to infect the very books that inspired curiosity about the author in the first place. Still, I love secrets, and biographies of my literary heroes are hard to resist. Thus did I succumb to temptation with Brad Gooch's Flannery: A Life of Flannery O'Connor, a chronicle of the brief life of one of this country's finest short-story writers. In its painstaking honesty, the book is both a great gift to her fans, and a curse.
It's easy to understand why some of my friends, including Jessa, avoid learning too much about their literary heroes. See also Marlon James' response.

Previously: on O'Connor's attention to the accretion of detail and meaning in fiction, her acceptance letter rejection, her letters to Betty Hester, her other correspondence, and her thoughts on the regional writer and the grotesque in Southern fiction.