Human carriage: reading & transmission of culture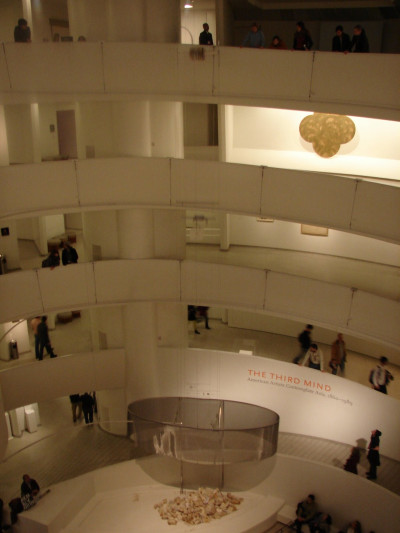 For the duration of its The Third Mind: American Artists Contemplate Asia show, the Guggenheim has given over its rotunda to Ann Hamilton's "human carriage."
When set in motion, a simple and strangely beautiful little silk-canopied trolley circles the balustrade spirals, top to bottom, carrying Tibetan hand cymbals that ring at seemingly random intervals. Everyone not wearing headphones slowly becomes aware of the sound, and many rush to the railing to watch as the carriage makes its way down to the lobby.
There it comes to rest until a "reader" above loads "a stack of books — cut guillotine style and glued and tied together in bundles — onto a vertical pulley, which lifts the bells back to the top of the ramp." Eventually this is deposited on top of the other cut-up volumes, and the process starts over again.

The artist has characterized the work as an audible and visual metaphor for the transmission of culture, especially through reading. Whom You Know's photograph, above, is the only one I've seen that comes close to capturing the experience. (Click over to the site for a larger version.)
The rest of the show is, as Lee Lawrence says, interesting but unwieldy, "a dissertation illustrated with artworks." It runs through April 19.