The Smart Set: Lauren Cerand's weekly events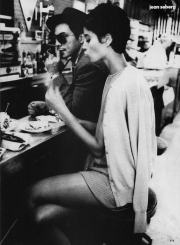 The Smart Set is a weekly feature, compiled and posted by Lauren Cerand, that usually appears Mondays at 12:30 pm, and highlights the best of the week to come. Special favor is given to New York's independent booksellers and venues, and low-cost and free events. Please send details to Ms. Cerand at lauren [at] maudnewton.com by the Thursday prior to publication. Due to the volume of submissions, events cannot be considered unless the date appears in the subject line of your message.

MON, FEB 23: Marlon James reads from The Book of Night Women at Barnes & Noble, Court Street in Brooklyn. 7PM, FREE (Also, Tue 24, 6PM at Hue-Man in Harlem). And, Jen Bekman (20×200, Hey Hot Shot!), art vs. technology innovator and everyone's favorite "fast-talking, nervous blond," speaks as part of Ignite NYC. 6:30-10PM, FREE.
TUE, FEB 24: "Global Correspondences: A Benefit for PEN America" at Cooper Union's Great Hall will feature Andre Aciman, Edward Albee, Anthony Appiah, Ron Chernow, Lydia Davis, Deborah Eisenberg, Nathan Englander, Janet Malcolm, Francine Prose, Sarah Ruhl and others. Our friend at PEN says, "I'm happy to give you the discount code: mem09. There is a wine and cheese reception with the authors following the event — it should be fun and swanky. There is no discount for that." Highly recommended. 7PM, Tickets $12-50. And, Bryan Keefer, a director at The Daily Beast, will give the closing keynote at Mashable NextUpNYC. 6PM, $20. In Brooklyn, Other Means says, "We are pleased as punch to be back at the Flying Saucer Cafe (494 Atlantic Ave, between 3rd and Nevins) to begin our 2009 season with a hilarious evening of readings from extremely funny people Anya Ulinich and Rachel Shukert, which will surely warm the deepest, darkest, most wintry cockles of your heart. We will be raising funds for the Food Bank for New York City–100% of funds raised will go directly to the charity. We will also have wine, coffee, and human companionship. Come on down!" 8PM, $5 (strongly) suggested minimum donation.
WED, FEB 25: Please join us for an evening exploring the intimate and complex conditions of domestic relationships as they relate to giving and receiving care, featuring Nell Casey — editor of the national bestseller Unholy Ghost: Writers on Depression and An Uncertain Inheritance, in which contributors reveal their experiences in caring for family through illness and death — and Anne Landsman, author of the novels The Devil's Chimney and The Rowing Lesson, described by The New York Times Book Review as "viscerally appealing" and currently nominated for the $100,000 Sami Rohr Prize for Jewish Literature. At Bluestockings, on the Lower East Side [Full disclosure, as always: I put this event together, and Anne is one of my publicity clients]. 7PM, FREE. Also, a reading by award-winning, easy-on-the-eyes Welsh poet Owen Sheers, for his debut novel Resistance, wherein "in a remote and rugged Welsh valley in 1944, in the wake of a German invasion, all the men have disappeared overnight, apparently to join the underground resistance" (I have a theory that this happened in New York just before I arrived). At Idlewild Books [Full disclosure, as always: one of my PR clients]. 7PM, FREE.
THU, FEB 26: "Housing Works Bookstore presents a reading and conversation with Laura Miller (The Magician's Book: A Skeptic's Adventures in Narnia) and Stacey D'Erasmo (The Sky Below)." 7PM, "Admission is free, donated books are welcome and encouraged."
FRI, FEB 27: Starting officially on Thursday and continuing through the weeked, it's the very sexy, smart and smoldering-sounding Festival of New French Writing: "Eleven major French writers, all translated into English, exemplifying the wide variety of styles and forms of contemporary French literary production, will come to New York from February 26 to 28 for two and a half days of one-on-one encounters with leading American writers, in dialogues hosted by well known American cultural critics." I'll be the one in the "Fesse Moi" t-shirt (PS, link fine but site probably NSFW– I know, I'm terrible!). Highly recommended.
SAT, FEB 28: The Enclave presents Eileen Myles (Cool for You— I know it's not her newest book but I LOVE it and am recommending it to you now, and this is my new policy), Wayne Koestenbaum (Moira Orfei in Aigues-Mortes) and talented poet Christopher Stackhouse, at Cake Shop. Highly recommended. 4PM, FREE.
SUN, MAR 1: "Emily Jacir, who lives and works in New York and Ramallah, was awarded the seventh biennial Hugo Boss Prize, which was established in 1996 by Hugo Boss and the Solomon R. Guggenheim Foundation to recognize and support significant achievement in contemporary art. Combining the role of archivist, activist, and poet, Jacir creates poignant works of art that are at once intensely personal and deeply political." The Hugo Boss Prize: Emily Jacir is on exhibition through April 15.