Portrait of my father, at Granta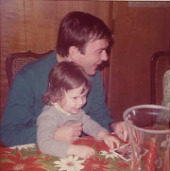 Granta's Fathers issue includes nine writers' recollections of their fathers. For Granta.com, the magazine has invited newer writers, including Jim Shepard, Gary Shteyngart, Rabih Alameddine, lê thi diem thúy, and me, to reflect on a photo of their dad.
My contribution is up today; here's the first paragraph:
Exactly how long the prostitute, unbeknownst to my father, stayed at our house and slept in my bed is hard to gauge. Nowadays time lacks the expansive quality it had when I was eleven years old. But more than three weeks and less than five months elapsed between the day she moved in and the terrible afternoon he noticed her crouching behind the frosted glass shower door in the front bathroom, and kicked her out.
The rest is over at the Granta site, where you can also read print contributions from Jonathan Lethem, Francesca Segal, Ali Smith, and others, and listen to Joseph O'Neill and Jonathan Lethem reading about and discussing their fathers.