On visiting Dickens' only surviving London house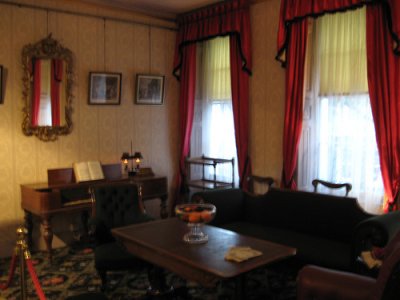 A conversation about literary pilgrimages with my favorite Poe fan last week reminded me that I never told you about my visit to the Charles Dickens Museum in London. The delay is fortuitous, I guess, because really, what better time than now to talk about the house of The Man Who Invented Christmas?
Dickens lived at 48 Doughty Street for just two-and-a-half years, from April 1837 to December 1839, while completing The Pickwick Papers, Oliver Twist, and Nicholas Nickleby.
Although the memorabilia housed there is extensive — it could be, as the museum site contends, "the world's most important collection of material relating to the great Victorian novelist and social commentator" — the place itself feels incidental. (Image of recreated period drawing-room, with curtains that resemble those that hung in the room in Dickens' day, above.)
Various items have been assembled, but so far as I could tell none are endemic, and it's difficult to see how if at all the house affected his work.
There is no equivalent to the cellar fireplace in Poe's Philly house that crept into "The Black Cat" — or, if there is, it's not highlighted in the pre-walk-through film or the brochure. Nor, obviously, does the construction reflect Dickens' own creative vision, as Twain's Hartford home does his.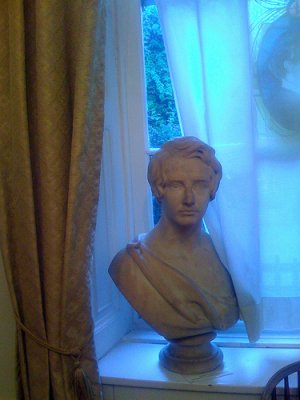 Yet the Doughty Street residence is the only surviving Dickens home in London. So, apart from the all-kitsch-all-the-time Dickens World, it is now the flagship tourist destination for fans of A Christmas Carol, or even Great Expectations or Bleak House.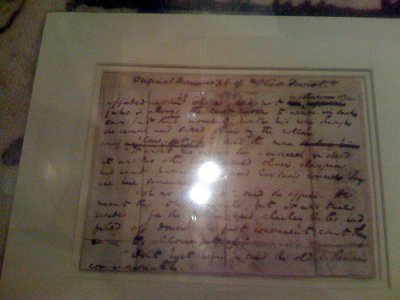 As I say, all sorts of papers and drawings and knick-knacks are on display there. The image above (please forgive the glare; I swear I wasn't using a flash) is of the original Oliver Twist manuscript.
There are other drafts, of course, and letters, and posters from Dickens' theater days. There are also illustrations of scenes from his novels, papers relating to child labor and abuse, portraits of the women Dickens is known to have loved, busts of the man himself (see, e.g., above), a giant golden arm (first image below) with a hammer in its hand that is mentioned in A Tale of Two Cities, and much more. The second image image below is of some of Dickens' writing talismans, and a quill pen he used in writing the unfinished Edwin Drood.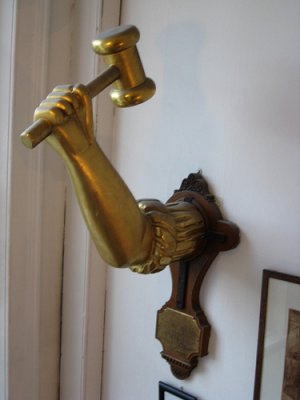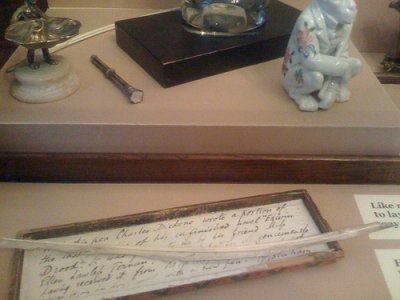 Despite the ease of stopping by the Dickens Museum as a London tourist, another house, Gad's Hill Place (now in Rochester), loomed much larger in the author's imagination. As a boy he dreamed of living there. He later purchased the house, made it his own, and even burned his correspondence behind it.
But of course at Gad's Hill Place you won't see things like this grill from the Marshalsea Goal (below), where Dickens's father, a spendthrift, was imprisoned for three months after he couldn't pay his debts.
The giant images of Dickens' parents behind bars are presumably intended to help you imagine how Dickens felt seeing them incarcerated. For some reason, they made me laugh.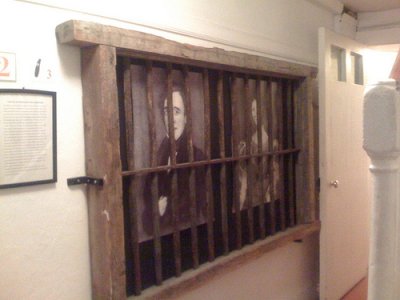 The jail-bars display epitomizes the presentation and offerings of Dickens Museum.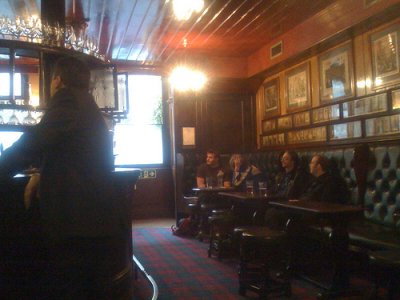 If you go, and you're thirsty afterward, by all means stop in at The Lamb (above), once Dickens' local, for a pint.
The fish and chips are fine — pretty standard — at this pub. But whatever you do, don't order the potato leek soup. Even if you're sick, even though it is the only soupy thing on the menu. You might not think someone could screw that up, but you would be wrong.

Elsewhere: The museum's virtual tour is worth taking, and I have some photos, with a little commentary, at Flickr.