The Smart Set: Lauren Cerand's weekly events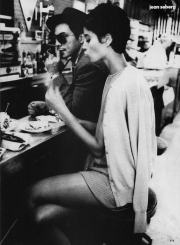 The Smart Set is a weekly feature, compiled and posted by Lauren Cerand, that usually appears Mondays at 12:30 pm, and highlights the best of the week to come. Special favor is given to New York's independent booksellers and venues, and low-cost and free events. Please send details to Ms. Cerand at lauren [at] maudnewton.com by the Thursday prior to publication. Due to the volume of submissions, events cannot be considered unless the date appears in the subject line of your message.

MON, NOV 3: Tonight at Barbés, Brooklyn Independent screens Karl Rove, I Love You: "A documentary on the 'unknown supporting actor' takes a surprising turn when the lead of the film (Dan Butler; 'Bulldog' from the television series 'Frasier') becomes smitten with the idea of playing Karl Rove, President Bush's notorious senior advisor. Initially bent on bringing Rove down, as Butler gets deeper and deeper into his role, he actually falls in love with Rove." 7PM, FREE.
TUE, NOV 4: "Deer Americans, Deer World. This November 4th, ASS is extremely proud to present a new sculpture HISTORY by Shanghai artist Xu Han Wei. This is the first time Han Wei will be showing in America and We Look Forward to Celebrating this Historic Night with him. *Xu Han Wei has choosen not to give any press release for this show as he feels that an English translation of his statement from Chinese will not be appropriate. Instead the artist will be present himself to read his statement during the opening. 6-9pm, Asia Song Society, 45 Canal Street." Also, Housing Works holds an election day sale and party.
WED, NOV 5: At Idlewild Books, which I have a mad crush on (as does everybody else): "Leonie Swann made a stunning literary debut with Three Bags Full: A Sheep Detective Story. When George, a beloved Irish shepherd who reads to his flock, is found dead in the meadow with a spade in his chest, Miss Maple, ruminating, intelligent sheep that she is, enlists the help of various members of her flock in finding out who did George in. With her mix of humor and ovine insight, Swann convinces readers that even given their woolgathering inclinations, sheep can set their minds on finding a killer when there's mischief ahoof. Leonie Swann reads from Three Bags Full at Idlewild Books, and talks with critic John Freeman, former president of the National Book Critics Circle and author of an upcoming book on the tyranny of e-mail." 7PM, FREE.
THU, NOV 6: "Correspondences (Edition of 250, $50), the daring new story collection by New Yorker editor Ben Greenman will be published by Akashic imprint Hotel St. George Press as the first in a collectible, limited edition series. Equal parts short story collection, artbook, and independent publishing manifesto, Correspondences launches at the Lower East Side Tenement Museum with a party featuring special guest Arthur Nersesian, recently profiled in the NYT for his Robert Moses-inspired story circle, plus complimentary beer and wine." [Full disclosure, as always: Ben is one of my publicity clients] 6:30PM, FREE.
FRI, NOV 7: Usually on Friday nights I stay in and read Arthur, the only magazine to which I subscribe.
SAT, NOV 8: "Iranian American Writers: The Next Generation is co-sponsored by the Asian American Writers' Workshop, ArteEast, and the Association of Iranian American Writers. Grove Press author Porochista Khakpour will be reading from her award-winning debut Sons and Other Flammable Objects, joined by Roger Sedarat (Dear Regime: Letters to the Islamic Republic), Aphrodite Desiree Navab (Tales Left Untold and Re-Collecting Iran), and Manijeh Nasrabadi (Souvenir). Reading will be followed by book signing. The event will take place at the Asian American Writers' Workshop. 6PM, FREE.
SUN, NOV 9: "Jeffery Renard Allen will read from his new collection of short stories, HOLDING PATTERN, at the Sunday Best Reading Series (116 Pinehurst Avenue, #C-42, New York, NY / 212-928-4227). He will also be reading with novelist Lore Segal. Jeffery Renard Allen can discuss: The role of African-American writers in the U.S., Magic and myth in U.S. culture, Illiteracy in Africa and what he is doing to change it. Learn more about Jeffery Renard Allen's work in Africa at panafricanliteraryforum.org." 4PM, FREE.