The Smart Set: Lauren Cerand's weekly events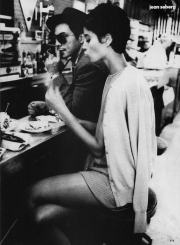 The Smart Set is a weekly feature, compiled and posted by Lauren Cerand, that usually appears Mondays at 12:30 pm, and highlights the best of the week to come. Special favor is given to New York's independent booksellers and venues, and low-cost and free events. Please send details to Ms. Cerand at lauren [at] maudnewton.com by the Thursday prior to publication. Due to the volume of submissions, events cannot be considered unless the date appears in the subject line of your message.

The "Late for Lunch" Edition
MON SEP 22: At McNally Jackson, "Tom Piazza's nonfiction book Why New Orleans Matters defined New Orleanians' response to Hurricane Katrina and its devastation of the people and culture of that great city. Piazza's new novel, City of Refuge (HarperCollins) traces the stories of two families, one white and one black, as their lives are torn apart by the storm and then slowly stitched back together in its aftermath." 7PM, FREE.
TUE SEP 23: Young Friends of Film says, "celebrate Sardinia Regional Tourism's sponsorship of the New York Film Festival by seeing this new, beautifully-filmed feature shot on the spectacular island of Sardinia! Sonetaula tells the story of a young boy in the idyllic Sardinian countryside who grows up to become a man on the run from both the law and his own past. This moving, historical drama was an official selection of the 2008 Berlin and Los Angeles film festivals." 7PM, $20 ("Tix include free popcorn, soda, and the catered reception with drinks and hors d'oeuvres"). And, "Reading Burma: A Benefit for Cyclone Relief and Freedom of Expression in Burma/Myanmar With Nobel Prize laureate Orhan Pamuk, Booker Prize winners Salman Rushdie and Kiran Desai, the Venerable Ashin Gawsita, Siri Hustvedt, Joseph Lelyveld, Paulo Sergio Pinheiro, George Packer, and other special guests… In addition to the readings of Burmese writers' work, some of which includes unpublished accounts from the cyclone-affected areas of Burma, The New Yorker's George Packer will join Venerable Ashin Gawsita, one of the leaders of the 2007 Monks' Uprising, in conversation" at the Great Hall at Cooper Union. 7PM, $100/$20/$15 tickets available via smarttix.com.
WED SEP 24: Rick Moody and Hannah Marcus will be "reading and singing" at "WORD, an independent bookstore located on the corner of Franklin and Milton Streets in the historic district of Greenpoint Brooklyn." 7:30PM, FREE.
THU SEP 25: "Electric Pear presents a night of short plays by three of the brightest lights in American drama — Clay McLeod Chapman, Zayd Dohrn and Ann Marie Healy. Grab your hall pass and join us at Village Community School for three unique takes on the parent teacher conference!" (Four performances from September 24-27). Highly recommended. 8PM, $18.
WEEKEND: Remember when magazine covers said something besides "that actress is doing something really bad to her face"? Visit MoMA for "George Lois: The Esquire Covers."