Whither Iris Murdoch's letters? Levi Stahl investigates.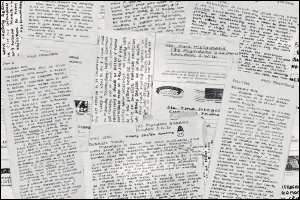 Last week Levi Stahl of I've Been Reading Lately ran a delightful series of excerpts from writers' letters. Selections ranged from the chatty, catty, and caustic to the bereft but self-deprecating.
His series was inspired by the publication of Penelope Fitzgerald's letters (image above), and correspondence with writer Jenny Davidson.

Coincidentally, Stahl and I recently exchanged some email about Iris Murdoch's missives. I won't quote my part. Just assume it was really learned and highbrow, and didn't go anything like, OMG, you're right, it's been ten years; haven't we waited long enough, John Bayley and Centre for Iris Murdoch Studies?!?!!!!
Then my correspondent "had a horrifying thought: Murdoch was a very private — secretive, even — person. I can imagine her regularly having, well, not quite trash-barrel fires, but furtive pokings of bundles of letters into the living room fire. Regular burnings throughout life of incriminating and/or interesting letters, leaving us little to enjoy post-Bayley. Now that I've thought of it, it seems plausible to the point of being likely. Oh, I hope I'm wrong!"

We were both briefly immobilized by despair at the prospect, but last week Stahl did some investigating:
I've consulted Peter Conradi's (disappointingly flat) biography of Iris Murdoch to test my supposition that Murdoch may have been a sneaking burner of letters. A quick rundown of what a cursory look at the apparatus reveals:

1) "She left behind edited journals (1939-1996) which constituted an invaluable resource, carrying her unique 'voice'." (Hoo, boy — can we see those?)

2) " . . . although an inveterate destroyer of letters . . . " Aha! I was at least partially right!

3) Lord! Her initial choice of a biographer was A. N. Wilson, her friend who–perhaps miffed because she didn't ultimately choose him?–ultimately (2004?) wrote about her and Bayley perhaps the most mean-spirited book I've ever touched.

4) Conradi writes, "I had loved her work since finding The Bell in Oundle school library around 1960, and thought, like tens of thousands, 'These books are about me.'" Which is a thought I've never had–yet her writing has been as important to me as anyone's other than perhaps Anthony Powell, Kafka, Dickens, and Borges. Odd.

5) Of the hideous Canetti, when Conradi mentioned him in 1997, she replied, "His name shudders me with happiness."

6) "Although Fletcher and Bove's Iris Murdoch: A Primary and Secondary Annotated Bibilography shows that there are many of her letters in public collections in libraries scattered worldwide, I have relied much more heavily on privately held letter- runs." Hmm. Odds of us seeing them seem to be falling.

Not sure what this all tells us, except that there are still letters — however decimated by furtive destruction we don't know – that we may someday see? And there are journals that surely — they've been edited!!! — we'll get to see?
If you have anything to add, or just want to join the Petition to See Iris Murdoch's Papers Published, email me at maud [at] maudnewton [dot] com.