Field-Tested Books reading, tonight at The Delancey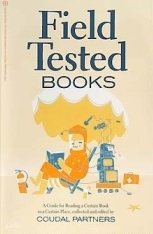 I'm excited to meet my fellow contributors at Coudal's Field-Tested Books rooftop reading tonight. Things get underway at 7, at The Delancey.
Last I heard, this was the tentative schedule (below), so if you're only coming out for Ben Greenman or Michael Bierut, or to see a friend, you'll want to plan accordingly.
(Don't let the longish roster put you off, though. The field tests are engaging — and blessedly succinct.)

| | |
| --- | --- |
| PART 1 | PART 2 |
| | |
| Ben Greenman | Jon Parker |
| Liz Danzico | Andy Ross |
| Steven Heller | Jason Santa Maria |
| Ron Hogan | Maud Newton |
| Matt Linderman | Michael Surtees |
| Randy Cohen | Michael Bierut |
| Randy J. Hunt | Scott Korb |
| Debbie Millman | Mike Sacks |
| John Gruber | Pitchaya Sudbanthad |
| | Jeffrey Zeldman |