The Smart Set: Lauren Cerand's weekly events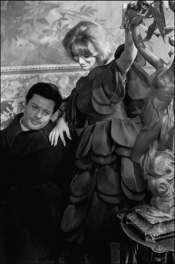 The Smart Set is a weekly feature, compiled and posted by Lauren Cerand, that usually appears Mondays at 12:30 pm, and highlights the best of the week to come. Special favor is given to New York's independent booksellers and venues, and low-cost and free events. Please send details to Ms. Cerand at lauren [at] maudnewton.com by the Thursday prior to publication. Due to the volume of submissions, events cannot be considered unless the date appears in the subject line of your message.

TUE, JUN 17: "Rebecca Haile, will be reading from her book, Held at a Distance: My Rediscovery of Ethiopia," at the Countee Cullen Library in Harlem (related: an interview and excerpt at NPR). 6PM, FREE.
WED, JUN 18: SIP LIT, a monthly series of readings in a café(located at 998 Amsterdam Avenue between 109th and 110th Streets), presents an evening with gifted writers from the Bronx Academy of Letters, "one of New York's highest-rated public schools. Its principal, Joan Sullivan, author of An American Voter: My Love Affair with Presidential Politics, founded the school in 2003. Last year, Rick Whitaker initiated a Professional Writing Seminar for talented students in the school, and this reading will feature the work these students have prepared during the past academic year." 8PM, FREE.
THU, JUN 19: Allen Gallery hosts an opening for an exhibition of work by Caroline Falby. Highly recommended. 6-8PM, FREE. And, at the Slipper Room, "A drunken party disguised as a reading, Literary Upstart gives young writers a chance to read their work in front of a discerning panel of literary big-wigs. The competition is emceed by Jonny Diamond, The L Magazine's Editor-in-Chief, and judged by the New Yorker's Ben Greenman, Simon & Schuster editor Ursula Cary, Curtis Brown literary agent Katherine Fausset and The L Magazine's resident lush, Adam Bonislawski. Come, relax, drink, and enjoy short short literature at its finest." [Full disclosure, as always: Ben Greenman is one of my publicity clients.] 7-9PM, FREE.
FRI, JUN 20: At Anthology Film Archives, "A one-of-a-kind event, with four screenings of selected work by the great avant-garde filmmaker Kenneth Anger, and the cine- & video-dance pioneer Amy Greenfield. The filmmakers will be present to talk and answer questions on cinema-dance-eros – in their own and in each other's work. While the erotic as carnal and transcendent poetry is a given for both filmmakers, the deep influence of dance in Anger's films is not widely known (he trained as a dancer in his youth, and one of his unfinished projects was a film of Jean Cocteau's ballet, LE JEUNE HOMME ET LA MORT), nor is his sense of connection with Greenfield's work: he has spoken of her CLUB MIDNIGHT and DARK SEQUINS as a continuation of his own PUCE MOMENT. In both filmmakers' work, individual, radical 'languages' of motion become the connective tissue between eros and ritual, the seen and the invisible." 7PM, $8.
SAT, JUN 21: Will Smith appears at MoMA for a gallery talk on a fascinating exhibition: "Featuring works that transform books through a variety of mediums, Book/Shelf stresses an expanded notion of the illustrated book." 11:30AM.
SUN, JUN 22: "BLESS is a visionary substitute to make the near future worth living for. She is an outspoken female – more woman than girl. She's not a chosen beauty, but doesn't go unnoticed. Without a definite age she could be more between her mid twenties and forties. B. hangs around with a special style of man…" Meet (or become) her at BLESS Shop #20 at Ludlow 38 during the opening reception on Sunday afternoon from 2-6PM [Full disclosure, as always: I am the publicist for Ludlow 38]. FREE.