The Smart Set: Lauren Cerand's weekly events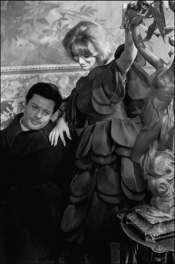 The Smart Set is a weekly feature, compiled and posted by Lauren Cerand, that usually appears Mondays at 12:30 pm, and highlights the best of the week to come. Special favor is given to New York's independent booksellers and venues, and low-cost and free events. Please send details to Ms. Cerand at lauren [at] maudnewton.com by the Thursday prior to publication. Due to the volume of submissions, events cannot be considered unless the date appears in the subject line of your message.

MON, JUN 9: At the author-owned and near-perfect Cornelia Street Cafe, "Epiphany hosts Roxana Robinson, a fiction writer, whose recent novel Cost was named 'great read' by the National Book Critics Circle, and Vijay Seshadri, a poet, and author of Wild Kingdom and The Long Meadow, both from Graywolf Press" [Full disclosure, as always: Robinson is one of my publicity clients]. 6PM, "Cover $7 (includes one house drink)."
TUE, JUN 10: At Bookculture, "Steven Wax will read from his new book, Kafka Comes to America: Fighting for Justice in the War on Terror, a public defender's dedicated struggle to rescue two innocent men from the recent Kafkaesque practices of our vandalized justice system." 7PM, FREE.
WED, JUN 11: "Issue Project Room presents the Littoral Reading Series at the (OA) Can Factory," this Wednesday featuring "a special night of poetry and music with three New York City luminaries — Bob Holman, Angela Jaeger, and Lee Ranaldo of Sonic Youth." 8PM, FREE.
THU, JUN 12: At McNally Robinson, the Author/Editor Series, exploring the intimate creative process by which a book takes shape, continues with "Roxana Robinson, author of Cost (Sarah Crichton Books/Farrar, Straus & Giroux) in conversation with FSG editor Sarah Crichton. Roxana Robinson is the author of three novels and two short-story collections, and her work has appeared in The New Yorker, Harper's Magazine, and Vogue. In her novel Cost, Robinson tackles addiction and explores its effects on the bonds of family. Tonight she speaks with her editor Sarah Crichton (The God Factor, A Long Way Gone) about the challenges and rewards of fiction." 7PM, FREE. And, at Barnes & Noble in Union Square, "Emmylou Harris will appear LIVE for a special One on One conversation with host Katherine Lanpher and will perform tracks fromAll I Intended to Be." 7PM, FREE.
WEEKEND+: I will be out of town, at the Nebraska Summer Writers Conference, but if I were in the city, I would be checking out Andrew Foster Altshul's celebration of his debut novel, Lady Lazarus, (and good musical taste) at Pianos with One Story and a clutch of cheap Caipirinhas on Friday night, and the Martial Solal concert at MoMA on Saturday. In reality, I'll be flying back on Monday and heading straight to an event from the airport– the two-year anniversary edition of "Upstairs at the Square," featuring William Gibson (Spook Country) and Martha Wainwright (I Know You're Married But I've Got Feelings Too), which my colleagues and I have been planning for, well, two years! 7PM, FREE. The Smart Set returns June 17. Ish.