The Smart Set: Lauren Cerand's weekly events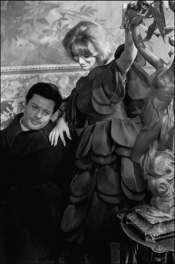 The Smart Set is a weekly feature, compiled and posted by Lauren Cerand, that usually appears Mondays at 12:30 pm, and highlights the best of the week to come. Special favor is given to New York's independent booksellers and venues, and low-cost and free events. Please send details to Ms. Cerand at lauren [at] maudnewton.com by the Thursday prior to publication. Due to the volume of submissions, events cannot be considered unless the date appears in the subject line of your message.

MON, JUN 2: At McNally Robinson, "Legends of the Chelsea Hotel reveals the stories behind the hotel's closed doors; author Ed Hamilton, who has lived at the Chelsea for almost a dozen years, provides intimate portraits of the artists who have called it home. Julia Calfee's work has been exhibited in museums and galleries in France, the UK, Italy, Belgium, Spain, and the US. Join us for a slideshow, discussion, and signing with two Chelsea Hotel residents." Highly recommended; I once collaborated with Julia to publicize an exhibition of her stunning photography, and I remember her telling me about the challenges of sleeping on ice in Mongolia. 7PM, FREE. Also, Brooklyn Independent presents an intriguing evening of films exploring slightly outre artists (a "California sculptor," a "French photographer and installation artist") collaborating with average American towns (Dayton, Durham) to create something grander than all of the above. 7PM, FREE.
TUE, JUN 3: "True Crimes: The Untold Story Behind The Devastation of Iraq; Join Jeremy Scahill, Chris Hedges, Laila Al-Arian and The New Yorker's Seymour Hersh, as they go behind the headlines to tell the untold story of the occupation of Iraq, the daily plight of Iraqi civilians, and the role of private mercenaries in the U.S. 'War on Terror.' The event is a dual book launch for Collateral Damage: America's War Against Iraqi Civilians by Chris Hedges and Laila Al-Arian, and the updated paperback edition of Blackwater: The Rise of the World's Most Powerful Mercenary Army by Jeremy Scahill. The conversation will be followed by audience questions and a book signing." Presented by the Nation Institute at Town Hall. 7PM, tickets $10-20.
WED, JUN 4: "He likes it when I'm in charge and when I take control/ And so I tell him how to rock and when it's time to roll…" Remember Northern State, the feminist Beastie Boys? They're back from touring for their new album, and playing a hometown show at the Knitting Factory.
THU, JUN 5: After years of admiring my jewel box of a closet– stuffed to the gills with exquisite vintage and designer clothes I collected on various travels from Omaha to Tokyo to Martha's Vineyard and back again– from a discreet distance as I couldn't actually open it, I made peace with my space limitations and decided to, as Paris Vogue editor Carine Roitfeld once advised, "edit, edit, edit." My zen is your good fortune, ladies, as I donated several bins of YSL, Valentino, Prada, Bottega Veneta, etc. to the John Street United Methodist Church Tag Sale, where it's all going to get sold for about five bucks or less and I love that. Thursday & Friday, 10am-4pm at 44 John Street (between Nassau and Williams).
FRI, JUN 6: Paragraph presents an evening exploring Heroin & Hollywood as novelists Roxana Robinson and Rachel Cline read from their new books, Cost and My Liar, respectively. Followed by a wine and cheese reception [Full disclosure, as always: Roxana is one of my publicity clients]. 8PM, FREE. Also, it's Pushkin's birthday.
SAT, JUN 7: "The Museum of Comic and Cartoon Art is proud to announce MoCCA Art Festival 2008, to be held June 7th-8th, 2008, at the historic Puck Building in lower Manhattan. Hours: 11:00am – 6:00pm Admission is $10 each day / $15 weekend pass (weekend pass only $10 for MoCCA members). Meet comics and cartoon artists! Four full ballrooms of cartoonists and publishers! Three days of entertaining and educational panel sessions!"
SUN, JUN 8: "Girls Write Now (GWN), New York City's premier mentoring and creative writing organization for teen girls presents its Girls Write Now Annual Spring Reading at Barnes & Noble in Tribeca. On Sunday, June 8, from 4-6PM, New York City's most talented teen writers, along with celebrity host Amanda Diva (Def Poetry Jam, HipHopNation, MTV2, Floetry), will turn a downtown bookstore into a showcase for a collection of powerful new poems, stories and essays that reflect an electrifying community of girl writers spanning often hard-and-fast lines of race, age, economics and geography in New York City" [Full disclosure, as always: I am the vice chair of GWN's board of directors]. 4-6PM, FREE.