John Waters: Groundbreaking director, delightful misanthrope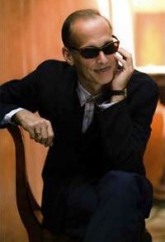 Years and years ago, I read an interview in which the director John Waters divulged his strategy for avoiding conversations with fellow passengers on airplanes.
He hides whatever book he's reading behind the cover for Flying Lesbian Nuns.*

Last night New York's Blythe Sheldon saw Waters performing This Filthy World at the Society for Ethical Culture. Among other things, Waters offered a little advice on how to keep the kids reading. "If your daughter is promiscuous, give her a book on womb raiders!" he reportedly said.
Asked after the show whether he had any desire to start a blog, Waters was unequivocal.
"No!" he replied. "I want to be harder to reach. I don't want people to find me. I'll write a book."
* At least that's how I remember it, but I can't find a single hit for that title. Which explains why, despite years of hunting, I've never been able to put his suggestion into practice.
Zeebah solves all: "I simply can't imagine John Waters with a copy (it isn't nearly campy or glamourous enough), but… Naiad Press put out a book called Lesbian Nuns, which was pretty groundbreaking for its time." Cecilieaux seconds the motion.