An early 3-minute preview of Mary Gaitskill's next book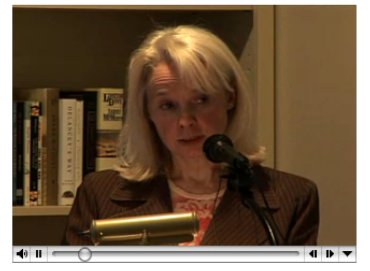 Front Porch Journal posts a video clip of Mary Gaitskill reading from work-in-progress at the Katherine Anne Porter House. A fitting locale, I think; the foxy, mercurial, ever-prevaricating Texan author would make an interesting subject for Gaitskill should she turn her hand to biography.
Previously the Texas State literary magazine has featured readings from Charles Baxter, Dennis Johnson, Percival Everett, Tim O'Brien, and YiYun Li, to name just a few of many.

In other news of recent author appearances, Amardeep Singh saw Rushdie at Google last week, although the talk is not yet available online.