The Smart Set: Lauren Cerand's weekly events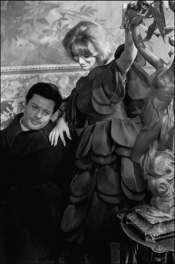 The Smart Set is a weekly feature, compiled and posted by Lauren Cerand, that usually appears Mondays at 12:30 pm, and highlights the best of the week to come. Special favor is given to New York's independent booksellers and venues, and low-cost and free events. Please send details to Ms. Cerand at lauren [at] maudnewton.com by the Thursday prior to publication. Due to the volume of submissions, events cannot be considered unless the date appears in the subject line of your message.

MON, MAY 12: At McNally Robinson, "The ongoing Author/Editor series brings writers and editors together for a conversation about the process of creation." Monday evening features Preeta Samarasan, author of Evening Is the Whole Day (Houghton Mifflin) in conversation with Houghton Mifflin editor Anjali Singh. 7PM, FREE.
TUE, MAY 13: In Brooklyn, "Douglas A. Martin (Branwell) and Arthur Phillips (Angelica) will be the featured readers in The Pacific Standard Fiction Series: Victorian Night." 7PM, FREE. At Film Forum, Last Tango in Paris screens one last time.
WED, MAY 14: Mark Sarvas, of The Elegant Variation Sarvases, makes a single appearance in New York to read from his Harry, Revised (which British hipster publisher Jamie Byng correctly termed "the hottest debut novel on the planet"), at Barnes & Noble in Tribeca. 7PM, FREE, essential!
THU, MAY 15: "'With God on Our Side,' designed to take aim at the heart of societal discourse on multiculturalism and national identity with provocative pairings of intellectuals, policymakers and authors this year, presents 'Getting Confucius Right,' with London-based Asia expert, Ian Buruma, and Die Zeit commentator, Thomas E. Schmidt, discussing the concept of democracy such as it exists in Asia." At the Goethe-Institut New York [Full disclosure, as always: this series is one of my publicity projects] 7:30PM, FREE.
FRI, MAY 16: Shows soon to close: "Gustave Courbet" (how can you miss the origin of the world?) at the Met; The Real World, an exhibition of works by Andreas Neumeister, Sean Snyder and Wolfgang Tillmans at Ludlow 38 [Full disclosure, as always: I am the publicist for Ludlow 38]. Both through May 18. And a new one at Jen Bekman Gallery, "Love = Love, an exhibition by Kent Rogowski comprised of six large-scale photographic prints based on altered puzzles, as well as a selection of the original objects." Through June 14.
SAT, MAY 17: "Housing Works Bookstore presents the Mountain Goats' John Darnielle reading from his new book, Black Sabbath's Master of Reality the newest in the 33 1/3 series." 7PM, $10 suggested.

SUN, MAY 18: "The good words @ Good World reading series continues with Reading #12: DEAD ROCK STARS, featuring JEFF GORDINIER on Kurt Cobain, HUGH HALES TOOKE on Syd Barrett, and JOHN SELLERS on Ian Curtis." Good World Bar and Grill is located at 3 Orchard Street, between Canal and Division (Subway: F-East Broadway). 5PM, FREE.