Scenes from the office on my day off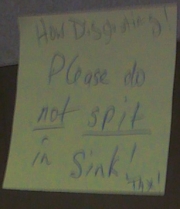 Everything GMB says about ye olde daye job is true, including the part about the guy who dropped his toothbrush in the urinal and then brushed his teeth with it anyway.
At right is a blurry photo of the famed "Please do not spit in sink!" sign that someone hung in the kitchen. My favorite part: The "How disgusting!" appended in a different color ink, by a different hand. What better way to say, "We all hate you, kitchen-sink-spitter"?

Recently I started working a compressed schedule, so now you know what I'm missing when I'm home writing and doing laundry on Wednesdays. Follow Tim Hall's lead: Add your own work horror stories over in GMB's comments.