Poe and Derrida: The roommate years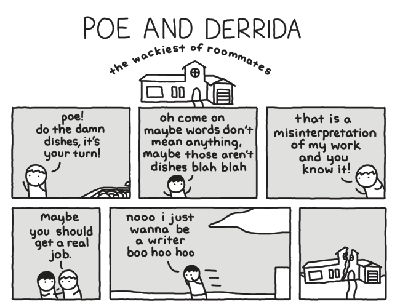 After Bookslut directed my attention to the David Foster Wallace cartoon at pictures for sad children, I read through the archives. Much of the story centers on Paul, who has a crush on a coworker and still shows up to his cubicle even though he's dead. The call center series is especially good.
Last month the cartoonist, John Campbell, was taking orders for custom comics at $20 each. You were able to request specific characters, and I asked that my comic feature Edgar Allan Poe and Jacques Derrida. Here it is.