Granta online editor Roy Robins investigates web habits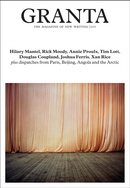 The venerable literary magazine Granta invited me to contribute to a feature about the Web Habits of Highly Effective People. I agreed, and secretly braced for the punchline.
My comments are up at the site now — although I probably should've confessed my iPhone addiction* — alongside revelations and tips from: Guardian editor Alan Rusbridger (who gives a shout-out to the indispensable Talking Points Memo); novelist A.L. Kennedy; journalist and commentator John Kampfner; journalist and editor Isabel Hilton; literary agents Kevin Conroy Scott and David Godwin; writer, filmmaker, and anthropologist John Ryle; writer and journalist Andrew Brown; publisher Philip Gwyn Jones; journalist and blogger Jonathan Derbyshire; writer and blogger Amanda Gersh; and journalist and author Andrew Hussey.

* The only satisfying substitute for cigarettes. I check email so often, the little button doodad is dying, and Marie once addressed a message to me, "Dear iPhone."