Helping to spread The Great Derangement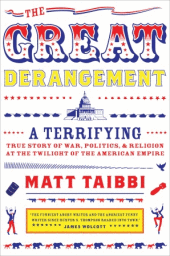 For his new book, The Great Derangment: A Terrifying True Story of War, Politics, and Religion at the Twilight of the American Empire, Matt Taibbi went to a 3-day charismatic Christian retreat in Texas and wound up vomiting demons. (Ah, memories.)
In places there's a patronizing edge to the excerpted account that renders it a little less effective journalistically than something like Jesus Camp. Still, Taibbi's got a compelling story and some good and unusual insights into how that world works.
Having enjoyed his scathing articles for years, I can't wait to get my hands on the book.

If you'd like a signed copy, and you haven't won one of my giveaways in the past, email me at maud [at] maudnewton [dot] com before 9 a.m. EST tomorrow (5/7), with "Great Derangement" in the subject line. All entries will be assigned numbers based on the order received, and the randomizer will choose a winner. Jacob M. wins the signed copy.