The Smart Set: Lauren Cerand's weekly events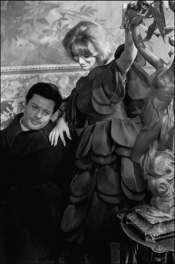 The Smart Set is a weekly feature, compiled and posted by Lauren Cerand, that usually appears Mondays at 12:30 pm, and highlights the best of the week to come. Special favor is given to New York's independent booksellers and venues, and low-cost and free events. Please send details to Ms. Cerand at lauren [at] maudnewton.com by the Thursday prior to publication. Due to the volume of submissions, events cannot be considered unless the date appears in the subject line of your message.

MON, MAY 19: Monday evening, innovative architect Christoph Ingenhoven and Andres Lepik of MoMA discuss next-wave trends in the field as part of "What is Green Architecture?" at the Goethe-Institut New York [Full disclosure, as always: one of my PR projects]. 7PM, FREE.
TUE, MAY 20: Says PEN, "Cynthia Ozick, winner of this year's PEN/Nabokov Award, will read at KGB Bar, along with Alex Mindt (Bingham finalist), Theresa Nelson (Naylor Fellow), and Margaret Jull Costa (PEN Translation Prize), in a celebration of the PEN Literary Awards. The evening will be hosted by Elissa Schappell, the chair of the PEN Awards Committee and a co-founder of Tin House." 7PM, FREE.
WED, MAY 21: Promising new reading series alert! "Facts and Fictions at the Montauk Club is a monthly prose reading series held at the historic Montauk Club on Grand Army Plaza in Park Slope, Brooklyn. The series is free and open to the public. Hosted by Luis Jaramillo… Abigail Thomas reads from her new book Thinking About Memoir and Alison Hart reads from her novel-in-progress." 7PM, free but reservations requested.
THU, MAY 22: Last week a friend texted me to ask what he should do with a layover in Brussels. "Go see The Death of Marat," I replied. Do you have a favorite painting in New York? Email me (address above) and I'll share your suggestions in next week's edition of The Smart Set. I am always seeking that moment of discovery. In the meantime, "Nepal in Black and White" at the Rubin Museum intrigues…
FRI, MAY 23: At Issue Project Room, "David Ohle will be making a very special and somewhat hyped appearance at IPR this Friday in support of his new novel from Soft Skull/Counterpoint, The Pisstown Chaos. Brian Evenson will be coming in from Providence to join him. Music will be provided by Nat Baldwin, who's recorded with everyone from the Anthony Braxton to The Dirty Projectors. Should be a great night and we're just trying to get Ohle as big a crowd as possible since he's flying in on his own dime," says friend of The Smart Set Tony Antoniadis. Highly recommended. 8PM. And, "Spaces of Negotiation," featuring the Berlin-based group of architects ifau and Jesko Fezer, opens at Ludlow 38 on Firday night, with a special event on Saturday night [Full disclosure, as always: one of my PR projects].
WEEKEND: C-h-i-l-l-a-x.
See also: Chicago, where I'm off to the Pilcrow Lit Fest!