The Smart Set: Lauren Cerand's weekly events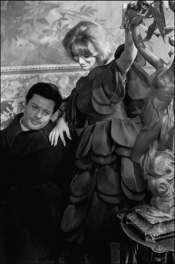 The Smart Set is a weekly feature, compiled and posted by Lauren Cerand, that usually appears Mondays at 12:30 pm, and highlights the best of the week to come. Special favor is given to New York's independent booksellers and venues, and low-cost and free events. Please send details to Ms. Cerand at lauren [at] maudnewton.com by the Thursday prior to publication. Due to the volume of submissions, events cannot be considered unless the date appears in the subject line of your message.

MON, APR 14: "New Wave wild man Godard, given international stars, a best selling novel by Alberto Moravia, two high-maintenance producers (Joseph E. Levine and Carlo Ponti), and the biggest budget of his career, still succeeded, as usual, in overturning the conventions of mainstream filmmaking, while producing a meditation on post-Hollywood filmmaking; the pitfalls of international productions; CinemaScope ("only for snakes and funerals," chortles Lang); imposing modern psychological interpretations on classical themes; and Bardot's derrière." It's Contempt at Film Forum. Through April 22.
TUE, APR 15: The new "With God on Our Side: The Crisis of the Secular" salon-style series takes up "The Islamic Challenge," with New York-based commentator Paul Berman and Dutch sociologist Paul Scheffer at the Goethe-Institut New York, with reception to follow [Full disclosure, as always: one of my PR projects]. 7:30PM, FREE. In Brooklyn, the Pacific Standard Fiction Series presents "Invention Night" with Samantha Hunt and Alex Rose and "Drink specials to be chosen by dartboard." 7PM, FREE.
WED, APR 16: The Beatrice Series kicks off at the Mercantile Library Center for Fiction, with the "first evening…dedicated to debut novelists" Jane Kotapish (Salvage) and Ed Park (Personal Days). Future editions this spring include Paulina Porizkova and Rivka Galchen. 7PM, FREE.
THU, APR 17: Get un-beat and bring your bongos (or just a flair for finger-snaps, or drinking, or…) for a happy hour of "action poetry" and "literary kicks" at Bowery Poetry Club. 6:30PM, $6.
FRI, APR 18: A.M. Homes and Anthony Schneider do Paragraph. 8:30PM, FREE.
WEEKEND: "The Real World," featuring works by Andreas Neumeister, Sean Snyder and Wolfgang Tillmans, is currently on view at Ludlow 38 [Full disclosure, as always: one of my PR projects]. The best review so far: "'This is heaven,' I said. 'This is what you see if you do too much acid,' George said." –Reverend Jen, "Diary of an Art Star."