The Smart Set: Lauren Cerand's weekly events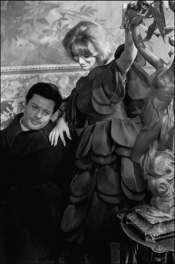 The Smart Set is a weekly feature, compiled and posted by Lauren Cerand, that usually appears Mondays at 12:30 pm, and highlights the best of the week to come. Special favor is given to New York's independent booksellers and venues, and low-cost and free events. Please send details to Ms. Cerand at lauren [at] maudnewton.com by the Thursday prior to publication. Due to the volume of submissions, events cannot be considered unless the date appears in the subject line of your message.

MON, APR 7: Brooklyn Independent presents a fascinating line-up of idiosyncratic (surprise!) short films on Monday evening. 7PM, FREE. Also, the inexplicably underrated Clay McLeod Chapman never disappoints; his newest venture is Hostage Song, "the new indie-rock musical."
TUE, APR 8: "Periodically Speaking" shines light on new writers and forums (this month, The Literary Review, Subtropics, and The Hudson Review). In the DeWitt Wallace Periodical Room, The New York Public Library, Humanities and Social Sciences Library. 6PM, FREE. (Thanks to the woman with the finest coat in town for the tip!)
WED, APR 9: "Please join SSF NYC for Happy Hour on Wednesday, April 9 at Borough Food and Drink (12 E 22nd & Madison) from 6 – 8. We plan to to hang out, re-connect and talk about the possibilities to showcase the vast dimension and options of sustainable lifestyle choices in NYC… The Sustainable Style Foundation (SSF) is an international member based nonprofit organization that uses the combined power of popular culture and personal lifestyle choices to address the many pressing social and environmental challenges facing our world. From fashion, food and film to interior design, architecture, travel, music and more, SSF has designs on making sustainability the most exciting and important style innovation of the 21st century."
THU, APR 10: Min Jin Lee, author of Free Food for Millionaires, and singer-songwriter Mike Doughty, whose new album is Golden Delicious, appear "Upstairs at the Square" with host Katherine Lanpher at the Union Square Barnes & Noble [Full disclosure as always: Free Food for Millionaires and Upstairs at the Square are two of my current PR projects]. 7PM, FREE.
FRI, APR 11: "Please join us on April 10th and 11th for RITES OF RETURN: a two-day symposium about the new genealogy, cultural memory, and the contemporary obsession with roots… This two-day conference, produced by the Center for the Humanities in conjunction with Columbia University's Center for the Critical Analysis of Social Difference, will consider the political and aesthetic stakes of this journey into the past. What, for instance, accounts for the appeal of genealogical testing? How do museums shape the future of nostalgia? What is the politics of return in post-Katrina New Orleans and the Middle East? World-renowned scholars, writers, artists, and curators will explore questions of origin and identity, national and cultural memory, 'trauma tourism' and museums of conscience. FREE and open to the public. No reservations."
SAT, APR 12: A new magazine, Triple Canopy, holds a multimedia launch/fundraiser at the Gowanus Studio space, promising highlights such as "DJ Sebastian Mlynarski of White Glove plays Slavic New Wave." 7-10, $7.
SUN, APR 13: Sunday Salon, which takes place in a nearly beyond charming writer-run bar (think: a "Left Bank of Williamsburg" vibe) that focuses on local wines and creative types and can take credit for turning me onto to such wide-ranging interests as teenage girls' writing/mentoring programming and the literary scene in Kenya, presents an evening with Janice Erlbaum, Paul Pines, Ed Pavlic and Myla Jones [Full disclosure as always: Janice is one of my PR clients]. 7PM, FREE.