The Smart Set: Lauren Cerand's Six-Day Forecast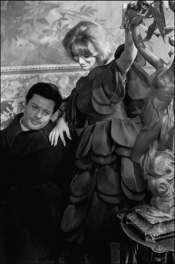 The Smart Set is a weekly feature, compiled and posted by Lauren Cerand, that usually appears Mondays at 12:30 pm, and highlights the best of the week to come. Special favor is given to New York's independent booksellers and venues, and low-cost and free events. Please send details to Ms. Cerand at lauren [at] maudnewton.com by the Thursday prior to publication. Due to the volume of submissions, events cannot be considered unless the date appears in the subject line of your message.

TUE, APR 1: "What Is Green Architecture?," a new series of conversations, lectures and events exploring the cutting-edge developments in the field and their impact on contemporary life as well as implications for the future, continues at the Goethe-Institut New York, with a talk by noted engineer Matthias Schuler of TRANSSOLAR, in conversation with MoMA's Andres Lepik [Full disclosure, as always: the Goethe-Institut's highest-priority cultural programming is one of my PR projects]. Also, the Clemens en August avant-garde retail installation continues on-site until 8PM. 7PM, FREE.
WED, APR 2: Amanda Stern's Happy Ending Reading Series goes to Joe's Pub for an evening! At The Kitchen, "Mika Tajima's newly commissioned installation constructs a kind of sequestered, phantom performance space borrowing imagery and references from various archival sources ranging from Herman Miller's controversial office furniture system from the late 1960s to the 1970 cult film Performance starring Mick Jagger as a has-been rock star. Interested in the given roles and multiple functions at play in performance as well as aesthetic tropes of early Modernism, Tajima creates sculptural sites for potential actions which also become surrogates for absent performers. Exhibition Hours: Tue-Fri, 12-6pm; Sat 11-6pm FREE."
THU, APR 3: Maverick screenwriter and counterculture novelist Rudy Wurlitzer [who, full disclosure, as always, is one of my PR clients] gives what is very likely to be the one and only public appearance for his new novel, The Drop Edge of Yonder, at 192 Books, with his friend, two-time National Book Award finalist Scott Spencer, who fascinating new novel, Willing, described by 192 Books as "a tour de force that explores the limits of male restraint, the intoxications of privilege, the maddening dangers of freedom, and the knockdown, drag-out fight between our instincts and our better natures." 7PM, free but reservations essential; call 212.255.4022.
FRI, APR 4: Rad new media artist Kathleen Sweeney discusses her new book, Maiden USA, at Bluestockings. Noted, " Since the early 90s we've witnessed an utterly new consciousness about teenage girls in American popular culture. They are powerful, they are protagonists, they are sex goddesses. Slaying demons, casting magic spells, vanquishing all forms of evil, girls are no longer sidekicks to the narrative. Their central character status in print, film and television is no longer the token Dorothy of celluloid history Oz. Gone are the boy-crazy innocents hanging around the edges of exclusionary boys' clubs, begging for inclusion. They are the It Girls and they are clearly here to stay." Highly recommended. 7PM, FREE.
SAT, APR 5: At Carnegie Hall, the Atlanta Symphony performs Daphnis et Chloé. 8PM. Also, the film adaptation of Miss Pettigrew Lives for a Day is a delight.
SUN, APR 6: The utterly enchanting Devon Sproule (if there were a theme song for The Smart Set, it would be her "Let's Go Out"… with "Plea for a Good Night's Rest" coming in a close second) plays Rockwood Music Hall. 8:45PM.