Harry Crews in The Georgia Review giveaway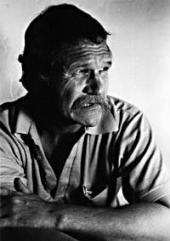 If my brief excerpt from Harry Crews' autobiography-in-progress got you curious to read more, you're in luck, maybe. Today I'm giving away a copy of that issue of The Georgia Review.
It's funny: I haven't been to the Peach State since I drove through from Tallahassee while moving here in '99, but as luck would have it I'm headed down to The Georgia Review's home base — the lovely and slackerful Athens — this weekend, just as the magazine has come to town for the National Magazine Awards and a string of events. Looking to supplement your PEN World Voices event-going? Check out your options here.

If you'd like to read the Crews autobiography and letters — and to see an awesome shot of the author smoking (I think) a joint at a carnival — email me at maud [at] maudnewton [dot] com before 9 a.m. EST tomorrow (4/29), with "Georgia Review" in the subject line. All entries will be assigned numbers based on the order received, and the randomizer will choose a winner. This time the randomizer likes Sebastian S.