The Smart Set: Lauren Cerand's events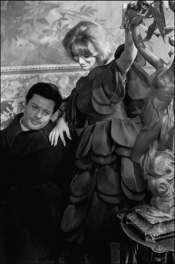 The Smart Set is a weekly feature, compiled and posted by Lauren Cerand, that usually appears Mondays at 12:30 pm, and highlights the best of the week to come. Special favor is given to New York's independent booksellers and venues, and low-cost and free events. Please send details to Ms. Cerand at lauren [at] maudnewton.com by the Thursday prior to publication. Due to the volume of submissions, events cannot be considered unless the date appears in the subject line of your message.

Later this week, I'm going to get some fresh air and bliss out in the country, so please note that this edition of The Smart runs through Monday, May 5.
MON, APR 21: "Jewels and Binoculars was born out of Lindsey Horner and Michael Moore's mutual love of Dylan's music… Interpreting the songs instrumentally, the trio uses the power of the tried and true folk song forms as the starting point for their improvisational flights, all the while keeping the power of the words and images fresh in mind…The latest recording, the third from this collective trio, is entitled Ships With Tattooed Sails on Horner's Upshot Records label." The group performs at Roulette on Monday evening. 8:30PM, $15.
TUE, APR 22: KGB Nonfiction Night host Kelly McMasters (herself author of the quirky and charming new memoir, Welcome to Shirley) presents an evening with Joanne Chen (The Taste of Sweet: Our Complicated Love Affair with Sugar), Meredith Hall (Without a Map: A Memoir) and Amanda Marcotte (It's a Jungle Out There: The Feminist Survival Guide to Politically Inhospitable Environments). 7PM, FREE.
WED, APR 23: Rick Whitaker's SIP LIT, "a monthly series of readings in a cafe," presents Roxana Robinson, whose new novel is Cost (FSG, June) and Pamela Ryder, whose first novel, Correction of Drift, is published by Fiction Collective 2, "a literary alternative since 1974.". At Sip, 998 Amsterdam Avenue between 109th and 110th Streets on the Upper West Side. 8PM, FREE [Full disclosure, as always: Robinson is one of my publicity clients].
THU, APR 24: "Show/Tell" presents a screening and discussion of video art inspired by Walter Benjamin's Passages, the intricate and haunting life's work contemplating the arcades of Paris that continues to captivate artists and thinkers today. At the Goethe-Institut New York [which is, full disclosure, as always: one of my publicity clients]. 7PM, FREE.
FRI, APR 25: The Poetry Project hosts an evening with Michelle Tea and friends, including Nicole J. Georges, who is "most proud of being voted Miss Specs Appeal 2006 by the zine Hey! Four Eyes" and Rhiannon Argo, who "recently finished her first novel entitled Switch, a tale of grit and glam, starring fierce feminist strippers and punkish, gender-queer girl-skateboarders." 10PM, $8.
WEEKEND: Two good shows to catch: Ian Baguskas' Sweet Water at jen bekman, Blake Rayne at Miguel Abreu.
MON, APR 28: Pay homage to National Poetry Month by sending the best kind of poem — a vaguely dirty one — to your current object of desire. Here's one for the girls, and one for the boys.
TUE, APR 29: In Brooklyn, "The Pacific Standard Fiction Series: Art, Politics, and Murder featuring Francisco Goldman, Anne Landsman, and Ceridwen Dovey." 7PM, FREE. PEN highlights include, "Crisis Darfur: A Conversation with Mia Farrow and Bernard-Henri Levy, Sponsored by Guernica: A Magazine of Art and Politics, and moderated by Dinaw Mengestu, author of The Beautiful Things That Heaven Bears. 8PM, $15 (advanced ticket purchase essential).
WED, APR 30: The Beatrice series (I would propose, as Lord Byron suggested, "The reader is requested to adopt the Italian pronunciation of Beatrice, sounding all the syllables.") presents novelists Arthur Phillips and Paulina Porizkova at the Mercantile Library. 7PM, FREE.
THU, MAY 1: Says Jonathan Taylor: "After the Thomas Bernhard reading that I organized last year at KGB, the Austrian Cultural Forum asked me to put together another Bernhard event for the 2008 PEN World Voices festival. Consequently, I will be moderating (!) a panel discussion on Thomas Bernhard and "the art of failure." I hope you can make it if you're interested; friendly faces in the audience will be very welcome. It will take place on Thursday, May 1, at 7:00 pm, at the Austrian Cultural Forum, 11 E. 52nd St. in Manhattan. It's free, but reservations are required (reservations@acfny.org or 212 319-5300, ext. 222). Full details are also here."
FRI, MAY 2: More PEN goodness, with Leaving Home, as "Guernica: A Magazine of Art and Politics hosts a panel with debut novelists Dinaw Mengestu, György Dragomán, and SaÅ¡a StaniÅ¡ić, whose narrators recount escaping violence in their home countries only to be fraught with feelings of ambivalence in their adopted countries. Moderated by Irina Reyn, whose debut novel, What Happened to Anna K., will be published in August 2008, the panel will explore children as witnesses, the status of exile, and the role of fiction as a voice for multiculturalism." 5:30PM; FREE, but reservations required.
WEEKEND: Janice Erlbaum (Girlbomb: A Halfway Homeless Memoir, Have You Found Her) reads down by the water in Red Hook as part of Sundays at Sunnys, hosted by Gabriel Cohen, author of the new memoir Storms Can't Hurt the Sky: A Buddhist Path Through Divorce [Full disclosure, as always: Erlbaum is one of my publicity clients]. 3PM, $4 suggested.
MON, MAY 5: Please join us for an evening at Housing Works exploring "Art & Activism: Writers on Politics Now," with Stephen Elliott (Sex for America), Nick Flynn (Another Bullshit Night in Suck City) and Janice Erlbaum (Have You Found Her) [Full disclosure, as always: I helped to put this event together]. 7PM, $10 suggested in honor of Housing Works Bookstore Cafe's Tenth Anniversary.