The Smart Set: Lauren Cerand's Deadbeat Reckoning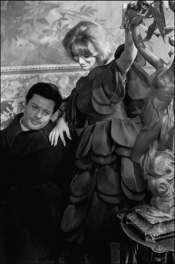 The Smart Set is a weekly feature, compiled and posted by Lauren Cerand, that usually appears Mondays at 12:30 pm and highlights the best of the week to come. Special favor is given to New York's independent booksellers and venues, and low-cost and free events. Please send details to Ms. Cerand at lauren [at] maudnewton.com by the Thursday prior to publication. Due to the volume of submissions, events cannot be considered unless the date appears in the subject line of your message.
WED, MAR 5: Lydia Millet reads from How The Dead Dream at McNally Robinson. Highly recommended. 7PM, FREE. And, the totally rad Asian Women Giving Circle has a party to celebrate its new class of grantees, at the Asian American Writers' Workshop. 6:30 – 8:30PM, $20 suggested.
THU, MAR 6: National Small Press Month Poetry Reading Marathon features some standouts, and sounds like the perfect downtown New York evening for artsy types. And, "She's so Cosmo Girl," a exhibition of paintings by Amanda Besl, remains on view through Saturday at Lyons Wier Ortt Contemporary Art.
FRI, MAR 7: What Maud Said. Plus, Krautgarden! And, later on in the evening, Alice Smith does Highline Ballroom.
SAT, MAR 8: Join us for Girls Write Now Day, a local celebration of International Women's Day that promises "an afternoon with young women writers and the women who inspire them, featuring Anne Landsman (The Rowing Lesson) and Lila Zemborain (Mauve Sea-Orchids), plus a chic fashion show inspired by the girls' own poetry and prose, created in collaboration with designers Erin Darby and Ana Maria Henao of S.I.C. (Smart is Cool), who maintain that 'the most fashionable thing you wear is your intelligence.'" At the New School [Full disclosure, as always: I am the vice chair of the board of directors of Girls Write Now, and had a hand in putting this event together]. 5-7PM, FREE. Just before that I'll be speaking (out of the goodness of my <3) at Book Promotion 101; if you have a book coming out in the next two years, I can't think of a better investment. Also happening on Saturday night: "KS Art announces come across an exhibition of new abstract watercolors by Kim Gordon. Painted on translucent rice paper these ethereal images recall faces of audience members from the perspective of the performer. This exhibition also includes a sound piece that Gordon has created in collaboration with Thurston Moore." Opening from 6-8PM, FREE (noted via Art Fag City).
SUN, MAR 9: Shall We Kiss? / Un baiser s'il vous plait closes out the Film Society of Lincoln Center's Rendez-Vous with French Cinema 2008: "Gabriel (Michael Cohen) and Emilie (Julie Gayet) meet on the streets of a provincial capital. He offers her a ride, and the ride turns into a pleasant dinner with clearly romantic overtones. But when Gabriel attempts to plant a goodnight kiss, Emile pulls back — even one kiss, she admonishes him, can have unexpected consequences…"