The Smart Set: Lauren Cerand's "rest of the year"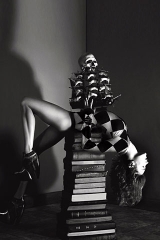 The Smart Set is a weekly feature, compiled and posted by Lauren Cerand, that usually appears Mondays at 12:30pm and highlights the best of the week to come. Special favor is given to New York's independent booksellers and venues, and low-cost and free events. Please send details to Ms. Cerand at lauren [at] maudnewton.com by the Thursday prior to publication. Due to the volume of submissions, events cannot be considered unless the date appears in the subject line of your message.
MONDAY, 12.10: Acclaimed poet Alice Fulton reads at the 11th Street Bar. 7:30PM, FREE. And, Silvana Paternostro reads from My Colombian War at the Half King. 7PM, FREE.
TUESDAY, 12.11: "Please join Francine du Plessix Gray, Edith Grossman, Shirley Hazzard, Richard Howard, J. D. McClatchy, Charles McGrath, Gregory Rabassa, David Remnick, and C. K. Williams in this celebration of poet and translator Robert Fagles's repeated success in illuminating the ground between 'the features of an ancient author and the expectations of a contemporary reader.'" 7PM, $15. See also: Wednesday's tribute to Grace Paley.
WEDNESDAY, 12.12: Highlights include PAGE, Mixer, Happy Ending.

Plus, next week:
WEDNESDAY, 12.19: Tony Antoniadis of Littoral says, "It's one of our strongest bills, stripped down to one writer and one musician, to keep the signal to noise ratio optimally high: Kenneth Goldsmith and C. Spencer Yeh." At Issue Project Room at the (OA) Can Factory in "Beautiful Gowanus, Brooklyn." 8PM, $10. And, on the Upper West Side, "SIP LIT, a monthly series of readings in a café (Sip, 998 Amsterdam Avenue between 109th and 110th Streets), presents poet Sarah Arvio and novelist Peter Cameron." 8PM, FREE.
"Maxx Klaxon is one of 50 musicians recently invited to re-dub a segment of 'Mago,' a spectacular, bizarre, and nudity-laden Korean art movie that tells a mythological story of the creation and fall of the human race. New Yorkers can catch exclusive screenings of the the film (with its new soundtrack) next week at Monkeytown, Brooklyn's unique cinema/restaurant/bar/performance space. 'Mago' will be shown on Wednesday, December 19, at 7:30 pm and 10 pm; the screening is free (but Monkeytown has a $10 minimum). It will also run on Friday, December 21, at 7:30 pm, with a $5 cover in addition to the minimum."

Anytime:
Cafe Katja, "a quiet little place to have a drink or two," aka, the bar equivalent of my favorite song;
Books at the movies: Atonement, The Golden Compass, No Country for Old Men, et al.
The Smart Set will return in the New Year. Happy Holidays!
Soundtrack to this post: South African indie rockers Dirty Skirts, "Is This It."