No place like (staying) home for the holidays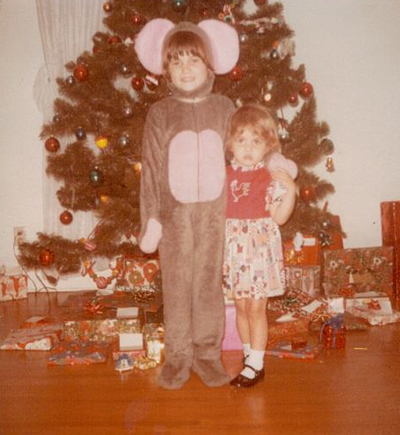 Happy Holidays, everyone. I hope you're keeping warm, and all is merry and bright.
Max and I are staying in the city for the season, and I've been posting photos of what we've been doing and seeing — tea at The Four Seasons, indoor fireworks at Grand Central Station on Christmas Eve, the cats — at Flickr. I'll put new ones up as the mood strikes.
The Christmas photo above is from my sister's old family album. Between my own brittle smile (and mouse costume!), and Sister's look of terror, it evokes our childhood perfectly.
For now I'll leave you with two festive things: an MP3 of Alex Chilton's gorgeous and wickedly sarcastic "Jesus Christ," and the best holiday card ever, from my friends Greg & Kellie.