On seeing Twain's (and Ives') Is He Dead?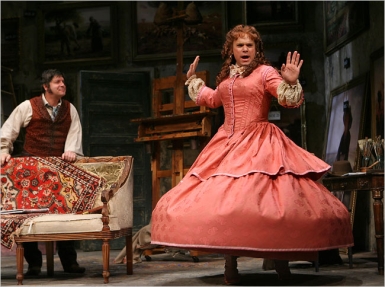 Once I dreamed that I met Mark Twain, and for a while I wanted to be Mark Twain, but it hadn't occurred to me until earlier this year that I might see the first run of a Twain play — on Broadway.
In Is He Dead?, the French painter Jean-François Millet is reimagined as a starving artist who's in debt to a scoundrel and can't sell a single painting. Millet's friends convince him to fake his own death, and to pose as his own widowed sister. That way, they argue, the public will finally recognize his genius and plunk down big money for his work. As one of the characters says:
When there's a great Master, the people don't know it — and they let him starve; and when he is dead and it is too late, his name fills the whole world, and the riches come.
Twain wrote the play as he was emerging from bankruptcy. But can the Broadway production of Is He Dead? fairly be called his?
My friend Terry Teachout, with whom I saw the Wednesday night production, argues in today's Wall Street Journal that adapter David Ives took a "quaintly amateurish piece of work that wouldn't have run for ten minutes on Broadway" and revised the script "to within an inch of its life."
The author of "All in the Timing" and "Mere Mortals," is one of this country's smartest comic playwrights, and a line-by-line comparison between the published version of "Is He Dead?" and the one currently being performed at the Lyceum Theatre is the equivalent of a postgraduate course in How to Make Large Numbers of People Guffaw. Mr. Ives has retained Twain's original situations, most of his characters and a fair number of his lines, but he has cut, rearranged, punched up and otherwise transformed them so extensively as to deserve credit not as the play's adapter but as its co-author.
Yeouch. I'm still waiting for a full copy of the original Is He Dead?, but Twain's first act is available in full, online. While I wish I could disagree with Terry's assessment, the funniest lines in this section really are Ives', and the play gains momentum far more quickly and smoothly in his version.

We howled thoughout the second act, as Norbert Leo Butz (playing Millet) tripped and pranced around the stage, periodically lifting his skirt "for air," and digging under his petticoats to adjust himself.
But for me there was a tonal disconnect between the opening — which was satirical but more heavily, ploddingly (and maybe even empathetically) so — and what followed — which snowballed into pure (delightful) farce.
Twain wrote Is He Dead? in his twilight years, after his own financial woes had forced him into an exhausting world speaking tour that didn't fully pay off his debts. So Millet's predicament was not entirely unfamiliar to him. And as a Twain completist who's nearly as fascinated by his life as his writing, I look forward to reading the original Is He Dead? in full.

Image swiped from the photos accompanying Ben Brantley's review for the New York Times.