Kevin Kinsella's granddad's reservation cole slaw
My friend Kevin Kinsella tends to wind up at the center of strange events and unfortunate misunderstandings that he, to his knowledge, has done nothing to invite upon himself. (I can relate.) So his passion for Russian literature shouldn't come as a surprise. A few months ago he interviewed novelist Anya Ulinich. More recently, Green Integer Press published his translation of Osip Mandelshtam's marvelous Tristia.
Below Kinsella shares his grandfather's coleslaw recipe. (Or so he claims. His twin brother, Keith, remembers the ingredients a little differently. Everyone, however, agrees on the Canadian Club.)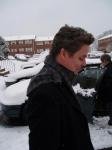 Injun Joe Thompson, my grandfather, rode boxcars east in the late 1930s from Going Snake, Oklahoma, to Detroit, and then Greyhounds all the way to Newport, Rhode Island. Born Joseph Bearpaw, he dropped his family name because he thought it was "too Injun," an unwanted distinction for which he left the reservation in the first place. People came to recognize him on the street late at night when he would stumble home drunk from one bar or another. Drunkenness was another of my grandfather's marked characteristics, but Newporters nevertheless nicknamed him Injun Joe, as opposed to Drunken Joe, which, when you think about it, was rather kind.
After a stint as a small-time bookmaker for a local organized crime concern, Injun Joe married my grandmother, the daughter of a chauffeur and a cook for Philadelphia coal baron Edward Julius Berwind, who owned the Elms Estate on Bellevue Avenue. In the fifties, they opened a small but remarkably successful restaurant — The Hilltop — that specialized in American country cooking and catered to the needs of the Hollywood celebrities attending Newport's Summer Theater.
Here is the recipe for the remarkably wholesome cole slaw recipe that you would never suspect was made day in and day out — or vicey versy, as Injun Joe would say — by a man who had more whiskey running through his veins than blood, and eight major cardiac events to prove it. I can still hear him cussing and singing Hank Williams as he showed me how to use the bell grater.

Injun Joe Thompson's Reservation Cole Slaw
1/5 Canadian Club whiskey, "furtively" imbibed
1 head green cabbage, shredded
2 carrots, grated
1 sweet vidalia onion, thinly sliced
2 green onions (white and green parts), chopped
1 fresh red chile, sliced
1 1/2 cups mayonnaise
1/4 cup Dijon mustard
1 tablespoon cider vinegar
1 lemon, juiced
3 pinches sugar
Several dashes hot sauce
Salt and freshly ground black pepper
Take a deep swig of Canadian Club, then combine the cabbage, carrots, onion, green onions, and chile in a large bowl. Indulge in another swig of Canadian Club as though your grandson weren't in the room. In another bowl, stir together the mayonnaise, mustard, vinegar, lemon juice, and sugar. Set aside a tumbler of whiskey for garnish. Pour the dressing over the cabbage mixture and toss gently. Season the cole slaw with the hot sauce, salt, and black pepper.
Chill for 2 hours and enjoy with half a bottle of Canadian Club whiskey, and, as Hank and Injun Joe Thompson might say, you're a long gone daddy.