The Smart Set: Lauren Cerand's weekly events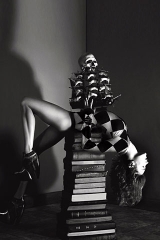 The Smart Set is a weekly feature, compiled by Lauren Cerand, that usually appears Mondays at 12:30pm and highlights the best of the week to come. Special favor is given to New York's independent booksellers and venues, and low-cost and free events. Please send details to lauren [at] maudnewton.com by the Thursday prior to publication, with the date in the subject line.
MONDAY, 11:26: Monday afternoon, Herve This, who "lives in France but will be in New York City for two days… [and] is a kind of celebrity chef in France known for his inventive mix of science and cooking," appears at the Experimental Cuisine Collective to discuss his Kitchen Mysteries: Revealing the Science of Cooking. 4PM, FREE. Monday evening, Brooklyn Writers Space Reading Series presents Jennifer Cody Epstein, Rachael Stark, Martha Schwendener and Rachel Urquhart, at Park Slope's Union Hall, (Downstairs) 702 Union Street @ 5th Ave. 7PM, FREE.
TUESDAY, 11.27: The aforementioned Herve This discusses his work at the James Beard House. 1PM, $20 ("but free for students"). On Tuesday evening, Gabriel Cohen, author of the newly published Red Hook-based mystery, The Graving Dock, is feted "by PortSide NewYork, the waterfront-themed nonprofit organization that recently had a smash hit with sold-out productions of a Puccini opera staged aboard their tanker the Mary Whalen in Red Hook. This second event in PortSide's new H2O Arts Series will take place in GMD Shipyard in the Brooklyn Navy Yard, and will feature a reading by yours truly, a multimedia sound and light show about the harbor, food and beverages, and a rare chance to talk to shipyard workers and to peer into an actual graving dock. Cosponsors include New York Magazine and BookCourt bookstore. Admission is $10." 6:30 – 8:30PM, full details here.
WEDNESDAY, 11.28: Amanda Stern's Happy Ending Reading Series, which could be subtitled "Never a Dud," presents an evening with Matt Marinovich, Jessy Randall and Sarah Schulman, with music from Dave Doobinin. Doors open at 7, event starts promptly at 8; FREE.
THURSDAY, 11.29: Edwidge Danticat reads from her latest, Brother, I'm Dying, at the Barnes & Noble Union Square location. 7PM, FREE.
FRIDAY, 11.30: At The Strand, "Dave Eggers will share a slideshow presentation of his last trip to the Sudan, answer audience questions and then sign copies of his books (including What is the What) for the audience." 7PM, FREE.
SATURDAY, 12.1: The New York Center for Independent Publishing (formerly the Small Press Center) kicks off the 20th Annual Independent and Small Press Book Fair, a weekend-long program of topical discussions, workshops and events. I'll be speaking on a panel about PR on Saturday. Also that afternoon: Ian McKaye of Fugazi fame on independent culture.
SUNDAY, 12.2: From November 30 – December 13, Film Forum celebrates the essential work of Ousmane Sembène: "Africa's foremost filmmaker, Ousmane Sembène (1923-2007) directed not only the first African feature film, but also the continent's first color movie and the first shot in an indigenous language. Booted out of school in Senegal in his early teens, Sembène joined the Senegalese sharpshooters of the Free French for a four-year stint of fighting across Africa, France, and Germany. Demobilized, he joined a mammoth West African railroad strike, became a shipyard union activist in Marseilles, began to write and, by the early 60s, was recognized as a major African novelist. But pushing forty, and realizing that literature had a limited audience in Africa, he went back to (film) school, with his efforts winning awards at festivals around the world and bringing international attention to sub-Saharan African cinema. In his nine features he was not only a sharp critic of the internal problems of modern Africa, but also a passionate advocate of African pride and autonomy." Sunday's screening is Moolaade, set "In a remote Burkina Faso village, [as] the impending mass ceremony of female circumcision goes wrong…" Highly recommended.
UPCOMING: C'est Duckie!