The Smart Set: a weekly events listing by Lauren Cerand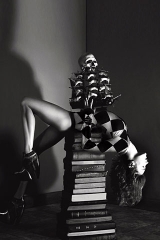 The Smart Set is a weekly feature, compiled by Lauren Cerand, that usually appears Mondays at 12:30pm and highlights the best of the week to come. Special favor is given to New York's independent booksellers and venues, and low-cost and free events. Please send details to lauren [at] maudnewton.com by the Thursday prior to publication, with the date in the subject line.
MONDAY, 11.19: "In Lost Paradise: A Novel, eminent Dutch novelist Cees Nooteboom weaves an imaginative tale of two unrelated travelers—a beautiful stranger aboard a Berlin-bound flight and a haggard-looking man on a Holland train platform…" Monday evening he discusses his work with Paul Holdengräber as part of the LIVE from the NYPL series. 7PM, $15. Downtown, David Kitt continues his residency at R Bar.
As for the rest of the week, Mara's Homemade is serving TurDuckEn. The Smart Set returns next Monday.