On the diets of writers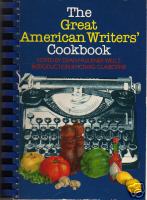 If, as Virginia Woolf suggested, visits to an author's home ought to be condemned as sentimental journeys, seeking information about a favorite writer's diet must be the lowest form of literary boondoggle.
I have some sympathy for this line of reasoning. After all, knowing Emily Dickinson's black cake recipe doesn't get you closer to the ultimate meaning of her poems.
And yet, for me at least, the knowledge of what she cooked and ate creates the illusion of intimacy — just as the recipes written in the back of my grandmother's cookbook make me feel that some part of her is still alive. (If only she'd left behind instructions for her pecan pie. Was the secret in the nuts, which fell from her own tree? Some unorthodox blend of spices? Karo? Or did she use some other kind of syrup?)

The Great American Writers' Cookbook — updated and expanded by the University Press of Mississippi a few years ago to become The New Great American Writers' Cookbook — is one of the few books I read during my recent anti-social phase. From Walker Percy's salt steak to Peter De Vries' "frazzled eggs" to William Faulkner's hot toddy, the recipes are an endless source of entertainment — and of ideas for quick nourishment or fortification when you're in the middle of a writing project.
For those who may need an emergency pick-me-up over the Thanksgiving holiday, here's Eudora Welty's contribution (admittedly a dangerous choice in our age of more aggressive salmonella):
Charles Dickens's Eggnog

This is the eggnog we always started Christmas Day off with. I have the recipe my mother used, though she always referred to it as "Charles Dickens's Recipe."

6 egg yolks, well beaten
3 Tbs. powdered sugar, sifted
1 cup Bourbon
1 pt whipped cream
6 eggwhites, whipped into peaks but not dry
nutmeg if desired

Add the powdered sugar gradually to the beaten egg yolks. Add the Bourbon a little at a time to the mixture. Add the whipped cream and the beaten eggwhites, folding gently in. Chill. Serve in silver cups with a little grated nutmeg on top if desired.
Honestly, I included this mainly because Welty, like all good Southerners, knows that the "B" in Bourbon must always be capitalized.

Over the holidays I'll be posting more writers' recipes. Please stay tuned.