Kate Christensen's holiday Brussels sprouts
Through December I'll be posting recipes — not necessarily holiday-themed — and food-related stories from writers I like. The first contribution is from Kate Christensen, whose books I've raved about, and whose mad skillz in the kitchen will one day be the stuff of legend. You can read more of her recipes here.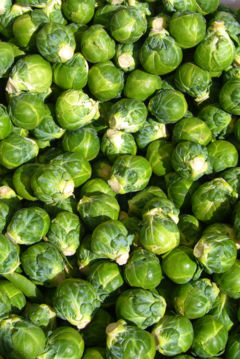 Wash 25 or so fresh Brussels sprouts and cut off their ends. Put them in a steamer in a large pot and steam till they're just soft and the bright green goes a little dull, about 10 minutes. Remove lid and let them cool a little. Melt two tablespoons of butter in each of two large cast-iron skillets and sprinkle dark brown sugar and salt evenly over the butter in each.
When the Brussels sprouts have cooled enough to touch, cut them in half and put them one by one face down into the sugared, salted, melted butter in the hot pans, make sure the flame is turned to medium (lower it a little if they smoke), and wait a while till they get golden brown on the downside. When they are ready, toss them in the pan to soak up everything and serve hot.
Serves 2 total gluttons or a family of normal people.