Joshua Ferris' grilled cheese sandwich
This month I'm posting recipes and food-related stories from some writers I like. Today Joshua Ferris, whose Then We Came to the End has been named one of the New York Times' ten best books of 2007, explains how to make a perfectly browned grilled cheese sandwich.
I admired Ferris' novel in Newsday last winter, and later was inspired by his reading of "Ghost Town Choir" at an event for New Stories from the South 2007 (edited by Edward P. Jones). More recently I enjoyed his thoughtful examination of the religious impulses that abound in the post-Christian world of Don Delillo's White Noise.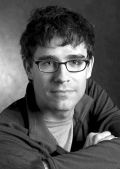 Making a good grilled cheese looks deceptively simple. It's actually an art and requires good technique and extreme vigilance.
This recipe — such as it is — goes back to my mom. Butter two slices of bread and place as much cheese as you like (cheddar turns stringy when melted, American liquidy, pepper jack somewhere between the two) between them and place the whole thing in the skillet. Set the burner on a very low setting. BE PATIENT. It's important that the toasting of the bread happens in harmony with the melting of the cheese. A good grilled cheese requires at least fifteen minutes to make. Turn a corner of the bread up from time to time until it's brown and ready to be flipped. Remember the second side cooks faster than the first.
I took a vow before a hundred people in Key West, Florida on February 5th, 2005 to make this for my wife any time she required one.