On visiting Mark Twain's house in Hartford, CT
On Saturday morning Max and I rented a car with some friends for the express purpose of visiting Mark Twain's Hartford home. There was a surprising — to four non-drivers, anyway — amount of traffic headed out of New York City and into Connecticut that morning. When we arrived around 3:45, we were informed that all tours for the day were sold out.
Neither the fact that the website does not mention reservations, nor that I was told when I emailed some months ago that we should just drive or take the train up and wouldn't have a problem getting in, was relevant to the vested, cb-carrying manager behind the desk.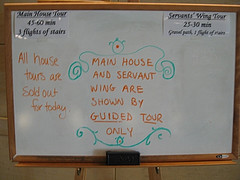 The tickets had been sold, and my friends and I were shit out of luck.
We ventured into a room full of exhibits and read through the placards, and I tried not to weep. (I can get a little emotional when it comes to Twain.)
At the last minute the fates intervened. Someone's toddler had a meltdown and was ejected from the tour. The mother and sister sat out, too. Suddenly three of us were allowed to buy tickets. Poor Kevin stayed behind, and it was for him that one of our party violated the rule against interior photos. Don't worry — he didn't use a flash.

At Flickr you can see pictures of and read about: Twain's antique bed that wasn't (and why he insisted on sleeping with his head at the foot of it); his corncob pipe; the billiard room where he smoked, drank, wrote, played pool, and generally gave free rein to his insomnia; and much more.
Even if you're not a Twain fan, the custom-built 1874 house is worth seeing. Just make sure you call beforehand and insist on buying tickets over the phone.