The Smart Set: Lauren Cerand's weekly events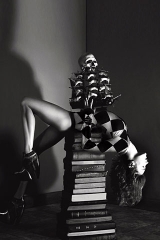 The Smart Set is a weekly feature, compiled by Lauren Cerand, that usually appears Mondays at 12:30pm and highlights the best of the week to come. Special favor is given to New York's independent booksellers and venues, and low-cost and free events. Please send details to lauren [at] maudnewton.com by the Thursday prior to publication, with the date in the subject line.
MONDAY, 10.15: In possibly the most promisingly smashing event I've ever planned, out-of-towners and delinquency specialists Dallas Hudgens (Drive Like Hell, Season of Gene) and Patrick Hughes (Diary of Indignities) take the stage at The Reader's Room at Mo Pitkin's, allegedly closing next week. I suppose it'll be just as well when we get done with the place [Full disclosure, as always: Dallas is one of my PR clients]. Join us! 7PM, one-drink minimum.
TUESDAY, 10.16: Bestselling British author Nick Hornby, whose new novel is geared towards a Young Adult audience for the first time, and musical guest, singer-songwriter Josh Rouse, appear Upstairs at the Square to perform and discuss their work with host Katherine Lanpher [Full disclosure, as always: I am very involved with this project]. 7PM, FREE. And Dallas Hudgens finishes up his tour of New York by guest-hosting The Jeffrey Leonard Invitational, aka NYC Sports Trivia Night. As for "Name this mustache," I'm gonna go with Terry Richardson. 8PM, FREE.
WEDNESDAY, 10.17: Having just spent nearly two weeks in Tokyo, I have to admit the following lecture, "Multilateralism in Asia: Measuring Risk & Rewards for the U.S. & Japan," sounds pretty rad. I'd go if I weren't such a jetlagged vampire this week. 5:30PM, $15. See also: "Butoh rebels" Senmichinae Blue Sky Dance Club at P.S. 122 this weekend.
THURSDAY, 10.18: Girls Write Now, "a nonprofit volunteer mentoring organization that has been matching bright, creative teenage girls from New York City's public high schools with professional women writers in the community since 1998," kicks off a celebration of ten years of innovative programming with a party at the Slipper Room featuring Janice Erlbaum, Tayari Jones and Royal Pink [Full disclosure, as always: I am the vice chair of the board of directors, and put this event together] 7PM, FREE.
FRIDAY, 10.19: The Kara Walker show at the Whitney is essential.
SATURDAY, 10.20: Looker, a band that makes even life after shambolic relationships sound great– "I used to live in Paris, now I live in New York, sippin' on Pernod, after my divorce…" — plays a "CMJ Loft Party in Gowanus." Go meet someone to break up with! 10PM, FREE.
SUNDAY, 10.21: Sunday Salon, a writers' writers series if there ever was one, presents an evening with Anne Landsman, Dexter Jeffries, Nora Maynard and Brett Berk [Full disclosure, as always: I'm delighted to be working with Anne to publicize her forthcoming novel, The Rowing Lesson]. 7PM, FREE.
If I were in London this Friday & Saturday: "Sublime: A Symposium to mark the 250th Anniversary of the Publication of Burke's 'Philosophical Inquiry'," like, for sure.