Jane Ciabattari on Sag Harbor's Canio's Books
From time to time I'm posting bookstore appreciations from readers. Below writer, NBCC board member and blogger Jane Ciabattari praises Canio's of Sag Harbor.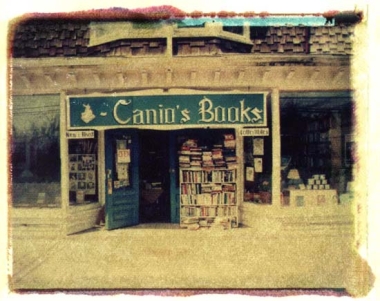 Canio's Books, in the former whaling village of Sag Harbor, on the East End of Long Island, is starting to come into its best season, autumn. The busy summer folks have gone, and there is a quiet golden light in the village and the leisure to settle and browse.
Canio's has a complete wall full of poetry books, a table of the best new literary novels and nonfiction, shelves of used books to discover, and expert advice from whoever is watching the shop that day. There are lots of "local authors" on the shelves; Sag Harbor, founded in 1789, has been home to James Fenimore Cooper, Herman Melville, John Steinbeck, E.L. Doctorow, Spalding Gray, Tom Harris, and Ursula Hegi.

Canio's was started in 1980 by Canio Pavone, a Spanish and Japanese language teacher. Almost at once the shop became a literary hub. A reading series started in May 1981 with Nelson Algren, the brawling Chicagoan who spent his last days in Sag Harbor living across the street from Betty Friedan. Algren attracted such a crowd that Canio had to borrow folding chairs from the Sag Harbor funeral home. In those early days there were all-night readings of Moby-Dick.
Since then Canio's has hosted Margaret Atwood, Russell Banks, Louis Begley, Robert Olen Butler, Edwidge Danticat, Carol Muske-Dukes, Ian Frazier, Alan Furst, Joy Harjo, Ed Hirsch, A.M. Homes, Sheila Kohler, Carole Maso, Walter Mosley, Harvey Shapiro, Colson Whitehead, and hundreds of others. I have read from the podium numerous times, sometimes with my husband Mark, as we morphed over the years from bookshop habituees to authors of fiction published by Canio's Editions, a small press Canio started with City Lights as a model.

In 1999, when Canio retired, expecting to shut down the shop, there was an outpouring of protest and Canio's was saved. New owners Maryann Calendrille, a writer and teacher, and Kathryn Szoka, a photographer whose "Vanished Landscape" series is in permanent residence at the Canio's online gallery, keep the bookshop going in the spirit of the founder, with personalized book ordering (new, used, antiquarian), Saturday night readings and book launches, and Sunday afternoon gallery openings. There are also writing workshops, concerts, and occasional special events. I organized a fundraiser for New Orleans writers several months after Katrina; a dozen poets, artists, and fiction writers read at Canio's, and some 60 people retired to the deck of my house afterward for red beans and rice prepared by a Mississippi native.
The community celebrated a long-awaited oral history, Voices of Sag Harbor: a Village Remembered, at Canio's on September 15. That same day the shop's float (featuring "John Steinbeck," "Herman Melville," and "Betty Friedan") took the prize for "Most Historical Entry" in the 300th anniversary Harbor Fest Parade. Fifteen days later, on October 1, Canio's celebrated its own 27th year.

If you'd like to see your favorite bookstore mentioned, send email to bookstores [at] maudnewton [dot] com telling me about it. Please include a photo or a link to one.