The Smart Set: Lauren Cerand's weekly events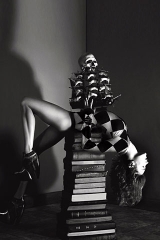 The Smart Set is a weekly feature, compiled by Lauren Cerand, that usually appears Mondays at 12:30pm and highlights the best of the week to come. Special favor is given to New York's independent booksellers and venues, and low-cost and free events. Please send details to lauren [at] maudnewton.com by the Thursday prior to publication, with the date in the subject line.
MONDAY, 9.24: Uptown, Don DeLillo reads at the 92nd Street Y. 8PM, $10-18. Downtown, at McNally Robinson: "Semiotext(e) is an independent publisher founded in 1974 in an effort to bridge the worlds of French radical theory and intellectual and cultural world of New York; today it publishes American and European fiction and nonfiction with an outsider bent. Two of Semiotext(e)'s debut authors read from radical new novels this evening. Mexico City native Veronica Gonzalez's debut novel Twin Time spans the dusty hills of Los Angeles and the glittering nightlife of Mexico City in a sensuous tale of an orphaned woman's quest to discover her long-lost twin brother. New Yorker Masha Tupitsyn's Beauty Talk & Monsters is a debut series of stories as told through the movies; her narrator, a female loner and traveler, confronts a lineage of familiar icons, myths, and on and off-screen cinematic excess in order to challenge the silver screen's century of power over our dreams and ideals." 7PM, FREE.
TUESDAY, 9.25: "Columbia University Press is pleased to co-sponsor a free poetry reading celebrating the publication of I Speak of the City: Poems of New York. The event is also being sponsored by The Poetry Society of America and the Times Square Alliance. The event will take place at the Times Square Visitors Information Center, located at 1560 Broadway." With Gerald Stern, Kevin Coval, Samuel Menashe, Andrea Carter Brown, Tom Sleigh, Harvey Shapiro, and Grace Schulman. 7PM, FREE.
WEDNESDAY, 9.26: Gotham Chamber Opera presents Maria de Buenos Aires: "Labeled a tango operita by its composer, María de Buenos Aires is a unique amalgam of music, dance, and spoken word. In it, Maria's life, motherhood, and violent death are expressed through singing, dancing, and poetry intoned over orchestral tangos." 7:30PM, $30-70.
THURSDAY, 9.27: The Goethe-Institut New York hosts "New Yorkers Wanted: the 1000Stories Launch Party," featuring filmmaker Florian Thalhofer, DJ Maxx Klaxon (SPLICE, Popular Front Records), projections by video artist Katja Loher, and more. Admission is FREE, and all are invited (RSVP to LCERAND@gmail.com). 6:30-9PM [Full disclosure, as always: 1000stories.com is my newest publicity project, and I planned this party; or, free booze, tell your friends].
FRIDAY, 9.28: Besides anything coconut-flavored and unadulterated luxury, opera is pretty much my favorite thing in the world. "With their authentic depictions of everyday life, Pietro Mascagni's Cavalleria rusticana (Rustic Chivalry) and Ruggero Leoncavallo's Pagliacci (The Clowns) exemplify the Verismo movement in opera. Today this famed double bill remains one of opera's most electrifying hits. City Opera's exciting new production by imaginative director Stephen Lawless stars Anna Maria Chiuri, Brandon Jovanovich, Carl Tanner, and Maria Kanyova, and is inspired by masterworks of 20th-century Italian cinema like Visconti's Ossessione and Rossellini's Rome, Open City. Where love ignites, jealousy will burn. Two tales of two-timers, Cavalleria rusticana and Pagliacci tell stories of passion, rejection, betrayal, and the fatal consequences of vengeance unleashed. " 8PM, tickets as cheap as $30.
SATURDAY, 9.29: At avant-garde creative space Chez Bushwick, "FORCE MAJEURE: New Dance From Paris. Alexandre Roccoli. 'The Unbecoming Solo'". Presented in conjunction with Crossing the Line: FIAF Fall Festival, a multidisciplinary program of theater, dance, music, visual arts and film celebrating cross cultural artistic exchange between France and New York City.
SUNDAY, 9.30: The best explanation for a brilliant career– 'It started 40 years ago in Venice, after lunch with a bottle of wine I had to myself.' Provoking Magic: Lighting of Ingo Maurer is currently on view at the Cooper-Hewitt.
Please note: The Smart Set returns the week of October 15th with a bang, as Dallas Hudgens and Patrick "Bad News" Hughes take over The Reader's Room [full disclosure, as always: Dallas is one of my PR clients; also, if the drink specials are good, the night could end with Maud and me breaking out some heartfelt country like we're always fixin' to… then again, that could happen this Thursday].