Happy weekend from the Stardust dinner party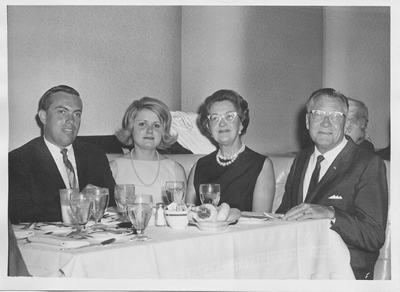 My mom was about 26, and her father, Robert, was in his 50s, when this photo of the two of them with their spouses, her first and his 12th(?), was taken at Las Vegas' now-demolished Stardust in 1965.
They were estranged for most of Mom's childhood, partly at her stepfather's insistence. But they got back in touch sometime before one of Robert's wives shot him in the gut.
Mom sits to the right of her first sociopathic lawyer husband, Chuck, who is not my dad. (Any confusion on that score is completely understandable, but my father has at least never been a himbo.)
Robert is at the far right, next to his last wife, Eleanore. She had money, apparently.