Marie Mockett on San Francisco's Green Apple Books
While I focus on things other than blogging this month, I'm running a series on independent bookstores. Below Marie Mutsuki Mockett (Letter from a Japanese Crematorium) praises Green Apple Books of San Francisco's Richmond District. She also recommends cheap eats in the area.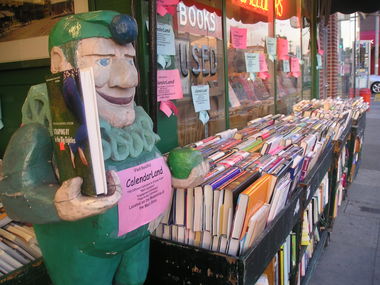 The Green Apple is a booklover's fantasy — an old Victorian with atmospheric amber lighting, unaligned book spines jutting out at all heights and a creaky wooden floor and staircase. Despite the clutter, the books are actually quite painstakingly arranged with little notes by well-read employees championing deserving but overlooked titles. With all the nooks and crannies and creaking and little notes, it's hard not to feel as though the store itself is having a conversation with you about what you should and should not read.
Unlike the Strand, the Green Apple manages to keep its "reviewer's copy" shelf current and well stocked, so I always find what I am looking for (seriously, how do they do this?) I found the new Murakami and the new Englander just waiting for me two weeks ago. Actually, the Green Apple somehow manages to ONLY keep good books on its shelves. Recently I picked up an original copy of Cynthia Ozick's The Shawl after a friend insisted I track it down and read it. She said it would be hard to find — but I found it at the Green Apple in minutes. I once spent 2 hours sitting in the poetry section with my friend, poet Lisa Gluskin, pulling poetry titles one by one as she put together a "crash course" for me to read. We managed to find nearly everything she wanted to pass along to me. I did the same for her in fiction.
If it weren't for the Green Apple, I wouldn't have come across Korean writer Young-Ha Kim's hauntingly beautiful little novel "I Have the Right to Destroy Myself." The only explanation that I have for the very deep and rich stock is that the buyers and manager actually know what they are doing, and actually care deeply about all disciplines. The Green Apple has seen me through my psychology phase, my popular science phase (Stephen Pinker), my shamanism phase, my failed attempt at grad school, and so on.
In recent years, they've taken over another storefront (separated from the main Victorian by a Chinese herbalist) and have filled this with used fiction, DVDs, CDs and magazines. Another building, a block away, functions as a warehouse, where everything is 50% off; but you have to do the sorting. There is no bathroom, but the Toy Boat cafe across the street allows people to use their restroom without making a purchase (though I recommend eating the "Fallen Angel" cake anyway). My new favorite place to eat, and I struggle to share this little secret with everyone, is the Burma Cafe (ask for the Green Tea Salad). I also like the very pink Taiwan Restaurant for dumplings. There are also coffee houses, though I tend to be partial to the Vietnamese/Parisian bakeries with the elderly men sitting inside drinking coffee while their dogs wait outside.
This is not a glamorous neighborhood at all. Thank god the dot-com craziness left the area untouched. If anything ever happened to Powell's or the Green Apple, it would be my personal book apocalypse.

Image swiped from this site. See also "Despite Online Competition, S.F.'s Independent Bookstores Survive" and "Corner Bookstores Stare Down Google." If you'd like to see your favorite bookstore mentioned, send email to bookstores [at] maudnewton [dot]com telling me why you love it. Please include a photograph. (And come on, Southerners, Repra-ZENT.)