Recipe from the Tex-Mex dept.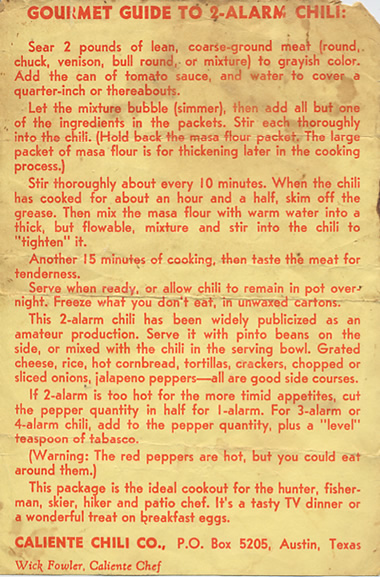 I found this Caliente Chili Co. clipping in my granny's 1954 New Settlement Cook Book — the same one that includes the 30 days diet, which promises to make you, at the end of that time, the "Skinniest, Shittiest, Sexiest, Drunkest Bastard in Town."
Unfortunately this recipe for 2-alarm chili involves Wick Fowler's prepackaged mix. Evidently Fowler started out distributing seasoning packets while serving as a war correspondent in Vietnam, but he eventually turned Tex-Mex into a business.
Luckily the Homesick Texan has taken pity on those of us who can't shop for chili fixins in the Lone Star State, and prepared a 2-part tutorial on making a pot of Texas Red.