The Smart Set: Lauren Cerand's weekly events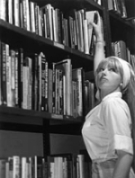 The Smart Set is a weekly feature, compiled by Lauren Cerand, that usually appears Mondays at 12:30pm and highlights the best of the week to come. Special favor is given to New York's independent booksellers and venues, and low-cost and free events. Please send details to lauren [at] maudnewton.com by the Thursday prior to publication, with the date in the subject line.
MONDAY, 7.23: Break out your umbrella and hop, skip and otherwise puddle-dodge your way over to Mo Pitkin's for The Reader's Room for, "Stacy Grenrock Woods, who will be reading from her just published memoir I, CALIFORNIA (Scribner). Our series convenes each Monday night at 7:00 pm. It's called "The Reader's Room: Where Writers Take Center Stage" for very specific reasons: the actual stage and intimate, classy, yet unassuming performance space where our writers can read with the respect and attention they deserve. Stacey Grenrock Woods was born in a hospital on Ventura Boulevard. After a brief child-acting. career (during which she met both Ricky Schroder and Jason Bateman), she worked in record stores, posed for a Playboy centerfold that was never published, was an usherette at Universal Studios Theme Park, and dropped out of college. She has been a Daily Show correspondent and played a recurring character on Arrested Development. Stacey is now a contributing editor for Esquire, where she writes a monthly sex column, and she has published articles in Allure; O, The Oprah Magazine; and the Utne Reader, among many other magazines." 7PM, one drink minimum (how much do I love an event where drinking is required? LOTS).
You know the drill: the rest of the 'Set will be up at half midnight or half noon tomorrow. In the meantime, I'm going back to reading interviews with inspiring artists ("Create, don't imitate. And go for it!") and wishing that I had more disposable income for keeping this calligrapher on retainer and every park I might possibly wander by and into fully stocked with these.
UPDATED:
TUESDAY, 7.24: If you're as lazy about getting on the subway as I am (even if it's one stop), just imagine what a signed, blood-spattered book would go for on eBay! Indulge your Roman side this evening at Gleason's Gym (83 Front Street, DUMBO) in Brooklyn, "for the launch of THE FIGHTER (Soho Press; July 2007) by Craig Davidson. Doors open at 8 pm, and there will be a three round sparring match between Craig and NY author Jonathan Ames." One of my favorite publicists assures me there will be cheap drinks at a nearby bar afterwards. Let the games begin, highly recommended, et al. FREE.
WEDNESDAY, 7.25: Jeffrey Frank (who, full disclosure, as always: is one of my PR clients) reads from his new novel Trudy Hopedale, which is equally bloodthirsty in its own very special, very brilliant way, at Barnes & Noble Astor Place. 7PM, FREE. And, at the Bowery Poetry Club, don't miss Cheryl B's expertly conceived Poetry vs Comedy Variety Show, "Starring comedians Liz Miele, Greg Walloch and Sven Wechsler and poets Christine Hamm, Livia Scott (as Anthony Moscowitz) and Kathleen Warnock. With music from The Manson Family Singers!" 8PM, $6 + one drink minimum.

THURSDAY, 7.26: Min Jin Lee, author of Free Food for Millionaires [and full disclosure, as always: a PR client of mine] and Rebecca Wolff, editor of Fence and fellow contributor to Womens Studies Quarterly read from and discuss the new issue, devoted to "The Sexual Body," which explores "a range of topics, including soul food, photographer Renee Cox, filmmaker Spike Lee, the history of slavery, and cyber pornographer Shu Lea Cheang, as it reveals how society views, discusses, and practices sex today." As some might say, that's hot. Join us! 7PM, FREE. And, of course, the only competition for sex being baseball, "at KGB Bar… a conversation with Jonathan Mahler, author of THE BRONX IS BURNING: 1977, Baseball, Politics, and the Battle for the Soul of a City, now an ESPN original miniseries starring John Turturro as Billy Martin, Oliver Platt as George Steinbrenner, and Daniel Sunjata as Reggie Jackson. This will be Jonathan Mahler's only New York City appearance for THE BRONX IS BURNING! $10 suggested donation at the door. The first 50 people will receive autographed copies of THE BRONX IS BURNING and will be entered in a raffle for 2 Yankees tickets. Tickets are $10 and fully tax-deductible." Also hot. 7PM.
FRIDAY, 7.27: "Maxx Klaxon (Popular Front Records, Splice) curates a free night of audiovisual art and pleasure at Monkeytown… A special presentation of Sergei Eisenstein's BATTLESHIP POTEMKIN, the 1925 silent film that is both a powerful propaganda piece and a still-stunning landmark of avant-garde cinema. In 2005, the Pet Shop Boys composed a new score for POTEMKIN, and performed it at public screenings across Europe with the Dresden Sinfoniker Orchestra. At this event, the 73-minute film will be projected in sync with the new score, on Monkeytown's four giant screens. Not to be missed!… Monkeytown is a restaurant, cinema and bar that functions as a space for video art, short films, feature-length films and documentaries. It also hosts live music, dance, and surround sound installations. Monkeytown serves experimental cuisine and classic dishes from a country that doesn't exist." MIDNIGHT, FREE.
WEEKEND: I'm going to ScopeHamptons, which should be exey. If in the city, check out The Lives of Others, one of the best films I've seen in a long, long time, and it's about a book. If in the Los Angeles area, check out "Art & Activism: Writers on Politics Now," happening Saturday at Beyond Baroque, an event that I put together but am sadly not able to attend! Go if you can; it'll be SO BEST.