The Smart Set: Lauren Cerand's weekly events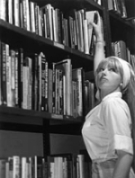 The Smart Set is a weekly feature, compiled by Lauren Cerand, that usually appears Mondays at 12:30pm and highlights the best of the week to come. Special favor is given to New York's independent booksellers and venues, and low-cost and free events. Please send details to lauren [at] maudnewton.com by the Thursday prior to publication, with the date in the subject line.
MONDAY, JULY 9: What are you doing tonight? Anything fun?
TUESDAY, JULY 10: Via New York Brain Terrain, "going through July 29th, BAM will be hosting Signore & Signore, a showcase featuring the great actresses of Italian film… This survey covers a remarkable range of styles, encompassing the verbal fireworks of Anna Magnani, the innocence of Giulietta Masina, and the beauty of Claudia Cardinale and Sophia Loren." Films include but are not limited to The Bishop's Bedroom, The Seduction of Mimi, Bellissima, The Girl With the Suitcase, and A Drama of Jealousy."
WEDNESDAY, JULY 11: Min Jin Lee, author of the debut novel, Free Food for Millionaires, reads from and discusses the book with David Henry Hwang, the Tony-award winning playwright of M. BUTTERFLY and the OBIE-award winner for GOLDEN CHILD. At Barnes & Noble, Lincoln Center [Full disclosure, as always: I've been delighted to work with Min Jin to publicize her book]. 7:30PM, FREE.
THURSDAY, JULY 12: Barnes & Noble's "Upstairs at the Square" final edition until the fall features featuring Permanent Midnight author Jerry Stahl, whose new book is Love Without (Open City Books, July 12), and Teddy Thompson, a young British singer-songwriter (and Rufus Wainwright BFF) raised in a Sufi commune whose raw-boned, big-hearted country covers mine classics with fresh depth [Full disclosure, as always: I am the PR consultant for this project] 7PM, FREE.
FRIDAY, JULY 13: Manuela Paz says, "It gives me great pleasure to announce my inclusion in Glamour, Glory, and the Good Old Days, a group show curated by Kari Morris at Paul Morris Gallery. The exhibit features six artists focusing on ideas of beauty, glamor and self reflection through drawing, photography, and painting. Please join me for the opening!" Artists: Alika Cooper, Manuela Paz, Lindsey Muscato, R. Crumb, Philippe Weisbecker, Rachel Kaye. 6 – 8PM, FREE.
SATURDAY, JULY 14: New York is boring me.
SUNDAY, JULY 15: But only for the moment. The #1 cure for the ho-hums today: dressing like your favorite book cover.