Illustrations for unwritten fairy tales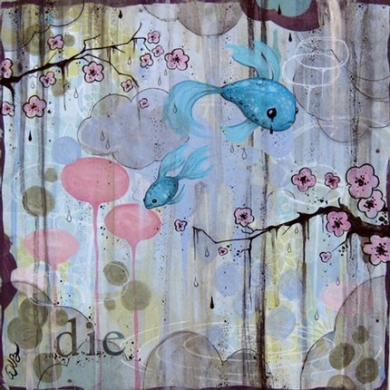 Kendra Binney's paintings — which combine malice and melodrama with storybook cuteness — are like illustrations for fairy tales not yet written.
Her originals run up to £425 at galleries, apparently, but I blundered upon her work last month at Etsy. There you can pick up small prints (mounted on birch wood and covered with clear plastic resin) for $20. I've been visiting a few for a while, trying to figure out why I find them so alluring, and today I broke down and ordered a couple.
The image above is called "Die." Below are "Parade of Unwanted Things 2," "Dream of Being Underwater," "Someone to Throw Stones At," and "Youll Like Living in the Heat Lamp."