The Smart Set: Lauren Cerand's weekly events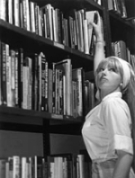 The Smart Set is a weekly feature, compiled by Lauren Cerand, that usually appears Mondays at 12:30pm and highlights the best of the week to come. Special favor is given to New York's independent booksellers and venues, and low-cost and free events. Please send details to lauren [at] maudnewton.com by the Thursday prior to publication, with the date in the subject line.

MONDAY, JUNE 18: Says Emilie Stewart of Smart Set fave The Reader's Room: "We were awash last week in stunning, startling poetry, and this week we return to a poetic 'state' of mind of a sort, as we host a night of readings from LIVING ON THE EDGE OF THE WORLD: New Jersey Writers Take on the Garden State (just published by Touchstone/Fireside). Funny, irreverent, nostalgic, heartfelt, this book will make you wonder, "Why didn't I get to grow up in Jersey?" Contributors Lucinda Rosenfeld and Joshua Braff will read, and the ever delightful editor, Irina Reyn, will introduce." At Mo Pitkin's. 7PM, one drink minimum. In Brooklyn, "Brooklyn Independent is pleased to present a selection of short films from the Lake County Film Festival." At Barbes. 7PM, FREE.
TUESDAY, JUNE 19: PAGE series at the National Arts Club co-director (and all around lit star) Wah-Ming Chang reads from her work with other NYFA Fiction Fellows at the Drawing Center: "Please join Jenny Offill, Shamar Hill, Wah-Ming Chang, Vestal McIntyre, and Emily Blair as they present new work. Ernesto Mestre-Reed will moderate discussion. The readers are 2006 Artists' Fellowship recipients of the New York Foundation for the Arts (NYFA). This presentation is co-sponsored by Artists & Audiences Exchange, a public program of NYFA." Highly recommended. 6:30PM, FREE. And the discerning Michelle Lin sends word about another SoHo event: "I'm writing to invite you to the opening of the Atlantic Gallery's latest exhibit, Playing for Keeps: Toys and Their Side Effects. "When TOYS are cherished by adults the quest of the TOY becomes a lifestyle and a contact sport. The days of playing marbles, blocks and jacks seem so distant when games are played by grown-ups on a global scale. Atlantic Gallery invites artists to play with TOYS and consider the side effects, spiritually, culturally, economically, and politically about the games we play." The reception is this Tuesday, June 19th from 6-8 pm, and the Atlantic Gallery is at 40 Wooster St., between the Canal and Spring St. stops on the A,C,E lines."
WEDNESDAY, JUNE 20: The monthly Mixer series takes place on Wednesday evening at Cakeshop, with "Readings by Mark Doty, Paul Lisicky, Jennifer Murphy, and introducing Caitlin Delohery. Music by Schwervon!" 7-9PM, FREE.
THURSDAY, JUNE 21: At McNally Robinson, "Writing From The Edge"… "a historic appearance by Tommy Trantino, the prison author whose book Lock The Lock (Knopf, 1974) was lauded by luminaries such as Henry Miller, Allen Ginsberg, Kurt Vonnegut and William Burroughs. Trantinto was convicted of the 1963 murder of 2 New Jersey police officers and spent many years on death row before his sentence was commuted to life. It was while in prison that he turned to art as a means of self-preservation, and his art and writing exudes a powerful influence on the underground writing scene. Tony O'Neill's work has been championed by such important names in the American underground as Dan Fante, Dennis Cooper and John Giorno. He is the author of Digging The Vein, Seizure Wet Dreams and his latest, Songs From The Shooting Gallery: Poems 1999 – 2006. Tommy and Tony will read selections from their work as well as taking part in a Q&A." 7PM, FREE.

FRIDAY, JUNE 22: Don't miss "BOOKED! The Books Through Bars Benefit Art Auction and Party!" featuring "Street Art Inspired by Issues of Reading and Incarceration" by 35 artists at ABC No Rio, "Auction and Closing Party benefits Books Through Bars. No Cover Charge. Cheap Beer. Auction over and art gone by 10:30 – So come early!" 7PM, FREE.
SATURDAY, JUNE 23: "Jonathan LeVine Gallery is proud to announce E Pluribus Venom, a solo exhibit of new works by Shepard Fairey. This show will be the artist's first solo show at Jonathan LeVine Gallery and will feature a second, off-site exhibition space for the artist to exhibit large-scale installations and murals on wood and canvas. Shepard Fairey's provocative collection includes politically charged paintings, screen prints, stencils, album covers and mixed media pieces rich with metaphor, humor and seductive decorative elements." Opening reception: 5-9PM, FREE.
SUNDAY, JUNE 24: Say Nita Noveno and Caroline Berger of Smart Set fave Sunday Salon: "To celebrate our fifth year, we came up with a grand idea– skydiving en masse! That's right, imagine leaping off a cliff and soaring over the ocean blue, eye level with the gulls, and trailing above a pod of killer whales! How awesome would that be? Then, the logistics sunk in, you know, airfare, bus fare, guides, wind factor, lunch… for how many again? Anyhow, it was a fine thought for a celebration, but we are going to stick to what we know best, equally breath-taking yet no movement required (unless you feel like it). Join us by singing in our fifth year with four effusively talented writers and musical guest. Books by our featured writers will be on sale and so will the finest of NY beers and wines at our home: Stain Bar, 766 Grand St (take "L" to Grand and walk one block west) in Williamsburg. The stars have aligned this month. We're celebrating on the same day our sister Salons in Chicago and Nairobi are holding their readings. Check them out (and go if you're in the area). (What's that? NY Salon alumnus, Jeff Allen, reading in Nairobi? Yes, indeedy!) [Full disclosure, as always: Jean Thompson, one of my PR clients, is reading at Sunday Salon Chicago]. 7PM, FREE.